It's been a busy few months, and I just haven't been as inspired as normal.
My youngest brother, Kolby, has gotten engaged, and is expecting his first child at the end of May. He's still working on his IT degree from UoP Online, and has gotten a job doing some online support for dealers websites. (I think that's what it is anyway.)
The older of my two brothers, Blayne, has reported to basic training, and has been there a little over 1 month now. He's keeping up with the younger guys. (And, in some cases showing them up!) He misses Marcy & Jaylin tons, but knows in the long run this will be best for them. He has also managed to lose 20 lbs despite eating the way he's used to. He's currently stationed at Ft. Knox, KY. His graduation ceremony is supposed to be about the first weekend in May. Then he'll move on to 3 months of AIT for mechanics on Bradley Assualt Vehicles. He found out that the overseas bases where that work is performed are primarily in Germany & Korea so if/when he gets deployed overseas at least it shouldn't be to any active war zones.
I haven't really heard much news from my sister, Nora, except that she is currently battling a sinus infection paired with bronchitis. FUN - NOT! Dad and the kids and I will be heading over there tomorrow for Easter. Mike is working.
Brenden has been being... well,... Brenden. Most of his antics are completely normal for a 5.5 yr old boy I know, but he's pulled a few stunts in the past month that have left me trying not to tear my hair out in frustration. He did manage to get Student of the Week finally - on a week he missed 2 days due to strep throat! LOL Apparently the secret to getting him to behave in school is to keep him home for almost 1/2 of the week!
Micaila's class all wrote animal poems a few months ago, illustrated them, and sent them to be printed in a hardcover book. I managed to get the afternoon off for their presentation of the book to families, which Micaila didn't know I'd done. She assumed only Grampy would manage to be there so her face lit right up when she saw me.
My coworker has left work, and we still have no replacement for her. Not a HUGE issue atm, but we're starting to get busier, and we have our annual sale for seniors in 1 month. We'd better have someone here and trained before then... Of course, you should SEE some of the people who've come in to apply! One woman was so overweight she could barely walk, and is here to apply for a position that has listed - among many other duties - measuring for tuxedos. If you can't walk how are you going to be able to bend, kneel, etc. to measure someone???
I'm at work now for another 1hr, and then we're jetting for Syracuse. One of Dad's cousin's passed on Wednesday from acute liver failure due to cancer. I thought she'd been fighting cancer for 2-3 years, but found out she'd actually been battling it on and off for the last 14 years. Today's her wake & funeral. She's left behind a husband, 2 married daughters, and 4 grandchildren - not to mention the extended family. I created this LO which I've printed and framed for the family to show and keep:
Title: Someday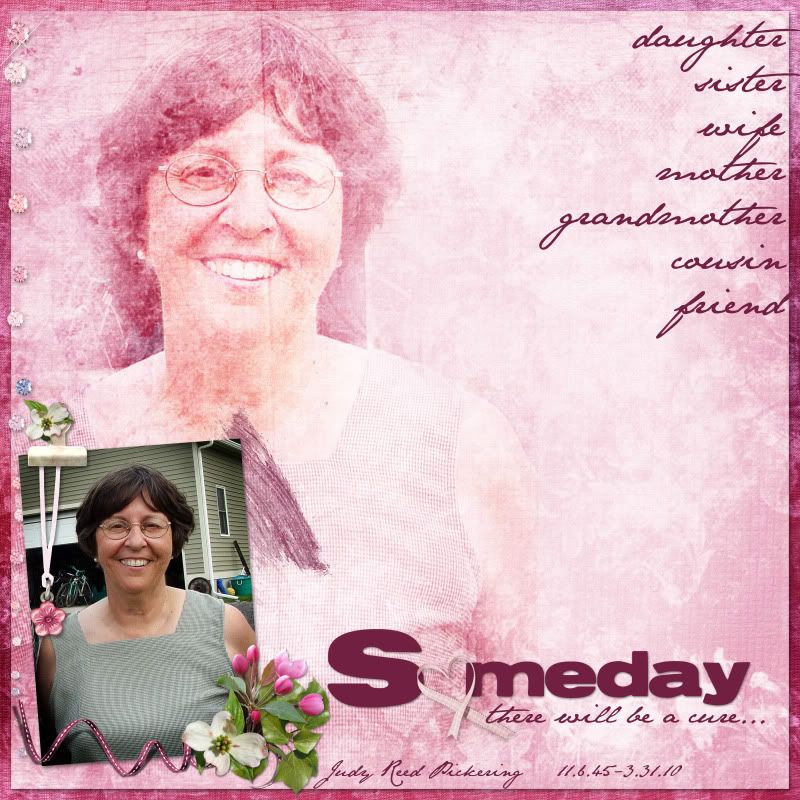 Credits:
Papers and elements from the
Daybreak Kit
by Designs by Kristine available at WenchdGrafix.com. (hue changed for heart ribbon)
Photo by my dad. (cropped & retouched slightly)
Fonts: Jane Austen; ReservoirGrunge
Ok, which brings me to CT news...
Lucie
(aka ad77design) decided she needed more time with family, and has retired as of March 31st.
Connie's
Team has created an entire week of freebies for you which ends tomorrow. This includes a
14 page
QP album!! Hop over to her blog to snag the goodies! (Link is at the right.)
Kristine
has 3 new kits.
Daybreak
featured above and
Cheerful
are in the store now, and Over the Hump which is a masculine-themed kit will be coming VERY soon! She's also looking for some guest CT members! Check out her call
here
. :)
Royanna
has a Spring Madness Buy My Store Sale going on right now. $20 will get you access to download EVERYTHING in her
personal store
!
Laura (Princess Lala)
is also having a HUGE sale... Almost everything in
her store
is marked down to $1 OR LESS!!!
I have more LOs to share, but I'm at work, and they are not.
I also added 2 kits to my store since my last post.
Lindsey's Beginning
was designed for my future SIL to use when creating wedding invitations, LOs, Thank You Notes, etc., AND Kristine creating a Coordinating kit as well
Lindsay's Beginning
! My kit is also broken into element-only, paper-only, and template-only sets if you don't want the whole she-bang. :) My 2nd kit is
Burst of Spring
which is exactly what it sounds like - bright colors and tons of blooms to help celebrate our new season.
So,... now that you've waded through all of that... Your freebie awaits! Spring A-Fair Paperpack will be available only until April 30th. :)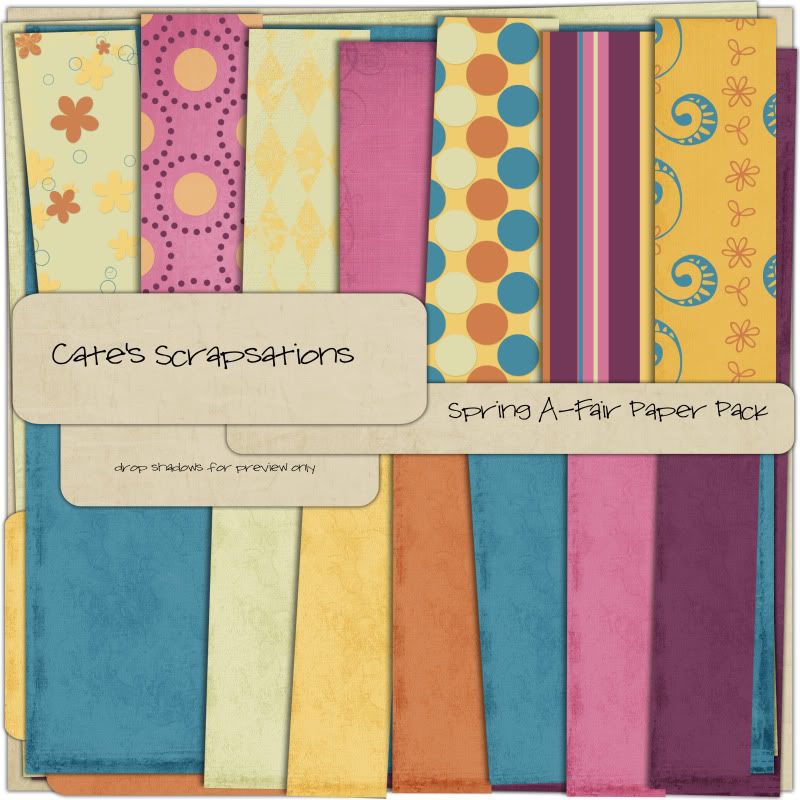 Spring A-Fair
password: goodies
Thanks for stopping by, and have a great day! :)