Well, I obviously need to work on blogging more steadily again, but apparently I also need to start posting to blog trains as well. I've neglected my blog friends as well as my blogging, and my readership has fallen away to just Kristine! LOL To be fully honest I need more hours in every day. Of course, I am sure I would then find things to fill those hours as well.
I've become a Facebook addict. I'm on there - at least popping in to check status updates - at least 8 times a day, and some of those visits last an hour or so if I am at home. FarmTown & FarmVille are the work of the devil... When I can't find any mojo to create I find myself wasting time there instead. It's so bad that I ended up creating accounts for my 2 kids because they wanted to play and kept messing up my farms. So, they now have FB accounts just so they can play on their own farms. LOL
I have 2 LOs to share... Well, actually I have 5 plus 2 hybrid projrcts, but I didn't load the others to Photobucket yet so I can't share them. :D
Title: oh my beautiful doll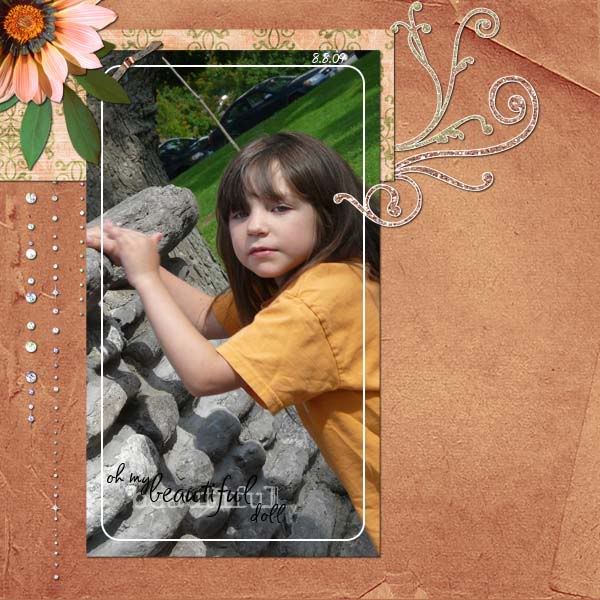 Credits can be seen
here
.
__________________
Title: Little Padawan
Credits can be seen
here
.
__________________
School starts in 3 days... 3 short days... At least I have the next 2 off, and Dad and I are taking the kids to Northpole, NY tomorrow to visit Santa's Wonderland again. We did it last year, and they had a blast. I figured we'd wait a year or two before repeating the experience, but Dad's afraid they may outgrow it before then as both kids will be in school this year. The Santa talk may be coming sooner than I'd like. They are normally closed on Sundays and Mondays, but made an exception for the holiday weekend which is good as I only have Sundays off normally. This way I'll still have a day to recuperate by being a slug at home. :)
Would you like to hear an ass-nign story? Other than 5 yrs I have lived my entire life in Philadelphia, NY - well not counting college 'cause I was still in Philly for breaks and holidays. The house we currently rent is -
maybe
- a 1/2 block further away from the school than my parents' house is. All of my life we have lived "too close" to the primary school to be bused - including last year when Micaila was in kindergarten. This year for some reason the cards from the school's transportation office didn't arrive until Thursday - which means I don't see them until 6pm when I get home from work - so of course they are closed Friday and Monday due to the holiday, and instead of seeing the normal "you cannot be bused" I see that they
HAVE
been scheduled to ride the bus!
BUT
, they are walk one block up the road -
toward
the school that is only 2.5 blocks from us - to catch the bus on the next corner - 20 minutes before school starts where there is
no
shelter from the weather!!! I mean I'm sorry, but
WHAT
?!?! (Oh! And, there are at least 3 buses that drive by my house
EVERY
morning, and could stop right at our driveway.)
Mind you, our district contracts out their drivers via a local bus company, but both these postcards and their answering machine - which I inevitably get when I try to call Friday morning - say to call that company if needed. So I do, and get a woman on the line to whom I give a brief description of my issue... She tells me they won't be in until Tuesday. At which point I stated that I figured as much, but could I leave a message via her so it gets to the appropriate person asap? And, get the response, " Well, you'd have to call them. You can leave a message on their machine." Then WHY the
HELL
do you put your number all over this stuff???? So I did. And, left a semi-bitchy message about how this made no sense and my kids would NOT be riding the bus - to remove their names form the roster.
The other part of this that fried my circuits is the fact that both of these postcards are addressed SOLEY to Mike using his full legal name. All school documentation has me listed as the primary contact so why were they not addressed either to me or to both of us??? And, then Mike gives me attitude about the way I handled it. Nevermind that he thought it was a little odd, and
WAS HOME
when the mail arrived, but didn't both to call me or them to ask about it... Then he would have been able to get someone at the office because they were open. *insert steaming*
sigh...
On to other things though. I won Precious Ones from Vera Lim! Just for leaving a comment on her blog. :) So cool 'cause I seldom win anything.
And, I just snagged some new goodies from JanaM and Princess Lala so maybe I can get some mojo flowing on Monday. I also have some new stuff from Kristine and Connie I need to get to.
April has decided to go into semi-retirement. She's not hanging up her hat completely, but has informed us that there will be very few new releases in the near future. I'm staying on as a when-needed CT, but have moved her to my Past/Temp CT section as those will be few and far between. I wish her all the best in her school and home endeavors. If there's something of hers you like it will still be available at DigiApeDesign.com. :)
So, I am looking for one or two new CTs. I like fairly low-maintainence ones because while I like to create I really am not a chatty Cathy. That tends to let most Site CTs out as I do not like mandatory posting/commenting. I'm sorry, but not everything grabs my attention, and there is nothing worse in my opinion than the cookie-cutter "Great LO!" comment. If I can't find something to point out that grabs my attention then I don't comment... So, if you know of something you think might be a fit let me know! Thanks! :)
Gonna' run for now 'cause I'm sure this is more than long enough! LOL Thanks for stopping by, and have a great day!
:)