So I have a LO I finished on the 30th, and haven't shared yet...
Title: an hour with brenden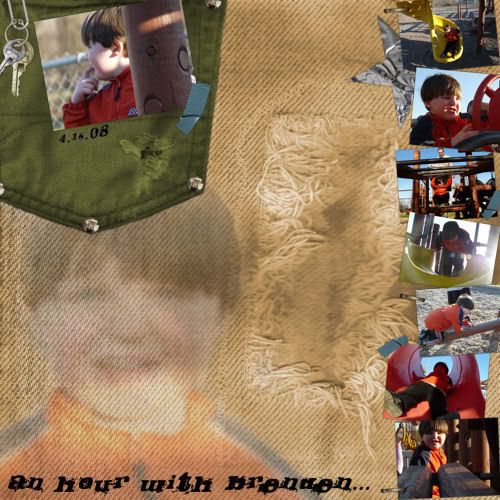 Credits:
Papers and elements from the Dirty Dude Kit by One Scrappy Mom available at One Scrappy Shoppe.
Photos by me.
Fonts: Guilty
_________________________________
And, one from this morning...
Title: Little Miss Sunshine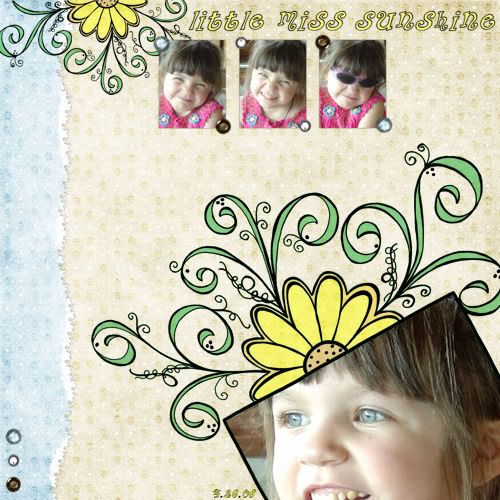 Credits:

Papers and gems from the Hugs, Kisses, and Cupcakes Kit by Princess Lala of Divine Digital.
Doodle and doodle frame from Fowered by Princess Lala of Divine Digital. (colored in)
Photos by my dad.
Fonts: DSP Curls & Whirls (colored in)
I also made a QP of this page so watch Laura's specials and/or blog if you like it!
------------------------------
Speaking of which... DD is having a birthday celebration, and many of the designers are giving freebies on their blogs!
Royanna
is giving Commercial Use Freebies!!! If you haven't used her CU goodies yet - they are
AWESOME
!!!
------------------------------
Ok, so realize that these are scans of color printer proofs AND copyrighted. I purposely did not try to make them look better as they are not for reproduction. These are a combination of Brenden's natural ability to be a complete ham, and Gary's ingenuity for catching kids being themselves.
Future GQ Cover...
-
-
-
Who'm I Kiddin'?...
-
-
-
Are you ready, Kris?
-
-
-
No drink in your mouth?
-
-
-
Who Loves Ya' Baby?!?
LOL...ROFL... I couldn't stop laughing for a good 10 minutes when I first saw that!!!
Well, I've got dishes done, showered, gotten Micaila dressed, and finished that LO. Gotta' go get Brenden dressed so we can leave a little early to drop off my car to get the inner wheel well fenders installed. Hopefully I'll have it back by Sunday, and it will work right - completely- for the first time since January... LOL And, Mike plans to leave Monday night after work for LI.
Thanks for stopping by, and have a great day!