Title: What Dreams are made of...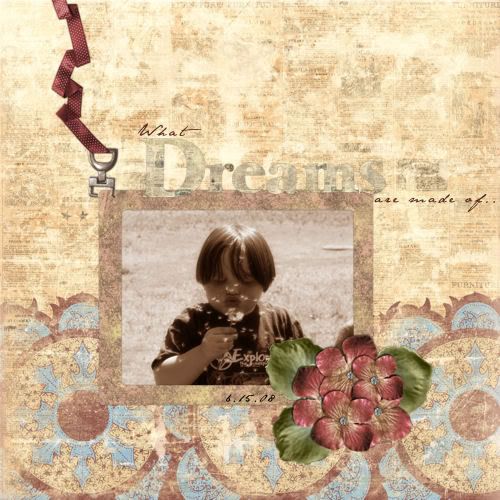 Credits:
Papers, alpha, and elements from the Belle Kit by April Staker of DigiApe Designs.
Script run on photo - Soft Sepia by Heather Manning Designs of Digiscrapping.net.
Photo by me.
Fonts: Jane Austen
---------------------
I'm feeling better for the most part. I still have an aching pain in my ear, and if I don't take my Vicodin (sp?) before eating breakfast and dinner I get shooting pains in my ear and jaw. Otherwise it's mostly just self-conciousness. I realize my mouth goes crooked if I grin/laugh so I try tohide it behind my hand, etc. I do sometimes find myself drooling a bit from the left side of my mouth and can't pull my lip down like you normally would when eating so that if I'm eating a sandwich I have to use my finger to pull my lip out of the way so that I'm not biting it...
I've been back at work full time this week, and am pretty much exhausted when I get home. Not to mention that thanks to a friend of the family who sent me $20 "mad money" I spurged on Royanna's Emergency Moving Sale, and got $1014-worth of her commercial & personal use products for $29. I finished downloading last night, and am currently trying to finish unzipping everything to ensure the downloads were all good before the links expire tomorrow. I've almost finished the commercial products.
My CT designers have all been busy working while I've been off, and I've got tons to download, unzip and use from them as well! LOL It never ends, huh?!?!
Gotta' run for work! Thanks for stopping by, and have a great day!
:)