Well, Micaila LOVES school. We're working with her at home with "sight" words - words that are either fundamental (ie - the, a, and) or building blocks (ie - an, or), and are working on reading Level 1 Reading books. I'm hoping to have her up to Level 2 by her birthday, but that depends on her! About once a month while we're out we pick up a new one at WalMart with one of her favorite characters - as well as one for Brenden who wouldn't want to be left out!
Little man isn't so little! His check-up on Thursday had him weighing in at 58lbs 10oz, and 43 1/8 inches!! Micaila's still bouncin' between 38 and 40 lbs... And, largely thanks to the LMax he not only knows his alphabet, but will sound out 3-4 letter words! He can tell
you
how to spell fox, pig, bird, and ant! (See a theme there?! LOL) The kids have Word Factory, Letter Factory, and Letters on the Loose for the LMax, and I have to say that this is a large part of why he can do this. I just wish he'd spend a little less time playing them! LOL
After work yesterday we picked up lunch at McDonalds (which now has Batman Lego toys), and headed home. Dad told me Mom has taken her last week of vacation time for the year to head back up north because there are some issues. Let's just say the accident might
NOT
have been such an accident, and it may involve family/extended family... We ate lunch with the kids watching Barbie Fairytopia, and then I did dishes, gave Miss Kitty a thorough combing with a undercoat comb (she's suddenly having some
NASTY
hairball issues), cleaned off my computer desk (although I'm sure Mike would still think it's a mess), scanned a bunch of the kids' artwork, scanned some doodles for the Fall Splendor Blog Collab, made and ate dinner, created a template for the collab, and created a LO from the template. Then I decided to go to bed as my eyes felt like they were falling out of my head! LOL
All right... so, on the docket for today (orange is done):
- do the dishes
(Ya' know I
REALLY
should have created those edible ones I thought of back in 9th grade...)
- a load of laundry?
- dinner in crockpot
- clean up doodle scans
- package collab pieces
- send links/previews to Kris
- breakfast for kids
- test blood
- breakfast for me
- vaccuum
- general clean/straighten of the house
- plant iris bulbs (if the rain lets up for more than 5 minutes)
- give cat a flea bath (should be
TONS
of fun)
- get gas in van
- blog
- work on a LO or 2
- create another template? (I have a request for a crossword one from a crazy Double D)
-----------------------
Title: Inseperable
Credits:
Papers and elements from the Latte Morning Kit by Julie Kelley Designs of Scrapbook Elements.
Photo by my dad.
Fonts: FG Cheryl
___________________
Title: Adirondack Scenes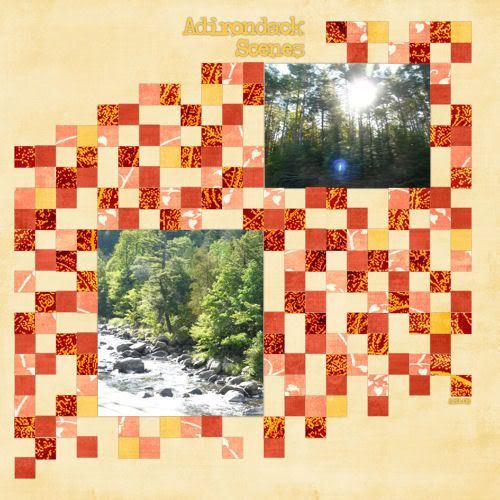 Credits:
Papers from the Sunsets Kit by Designs by Kristine of WenchdGrafix.
Template #31 by me.
Photos by me.
Fonts: Type-Ra
Well,... I have to go get to work on that list! Thanks for stopping by, and have a great day!
:)