Title: Just Lion Around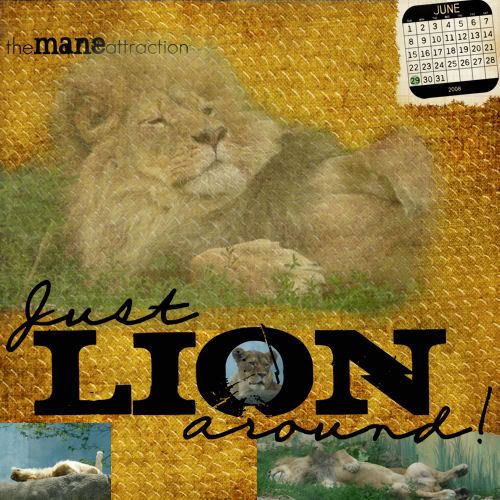 Credits:
Paper from the Exotic Paper Pack by Laura Burger of eclecticdigitaldesigns.com. (hue changed)
Word art from the Zoo Word Art Pack by Jodie McNally of Oscraps.
Lined paper from Legible Note Cards Pack by Meredith Fenwick of Scrapbook Graphics. ("torn" by me)
Calendar from Calendar Stamps 2008 by Meredith Fenwick of Scrapbook Graphics.
Photos by me.
____________________________________
Title: Into the Future
Credits:
Papers from the Cabana Nights Paper Pack by Kristine of WenchdGrafix.
Template #30 by me.
Photos by me.
Fonts: Trendy University
LO completes the Aug 2008 Weeds & Wildflowers Challenges with Tiff at Digital Scrap Garden.
____________________________________
I've been busy as you can imagine, and my body's still adjusting to the smaller amount of food so that I'm fairly tired by the end of the work day. I had a carb counting class for diabetics last night, and didn't get home 'til almost 9pm. It was really aimed at insulin takers which I am not (and hopefully won't be for a long time to come), but it had some good info and got me a book with carb amounts for an ungodly amount of foods including fast foods!! I've been afraid of eating out because of not knowing, and normally eat lunch out at least 1ce a week due to cashing my check. This'll help. For those wondering my sugar was down to 134 this morning.
Anywho... I should have 5 more templates up in the store either later today or tomorrow, and am joining a second store very shortly!!! More news on that once it's complete!
Gotta' run! Thanks for stopping by, and have a great day!!
:)