I have 1 LO to share, but I'm up before the sun 'cause Dad and I are taking the kids to the North Pole Village today! It's about a 3hr drive one way so we're planning to leave between 7 & 7:30 which means I need to get my blood tested, eat, make sure I have snacks packed, check the "diaper" bag, finish charging my camera batteries, get the kids up and dressed, grab a bag to wear around in te park with essentials in it, do the dishes, finish uploading my 1 LO, and get dressed myself in a little over an hour now! LOL I all ready have the dryer running the 2nd wet load from yesterday.
Micaila's been asking about visiting Santa's reindeer for a week now ever since I mentioned we'd be going somewhere special today. Brenden's been all over asking about visiting Santa "but not the penguin, mouse or snowman" since they figured out that was where we were going for sure yesterday morning! (They'd seen a brochure I picked up.) I'm a little excited myself 'cause the last time I went here I was about Micaila's age! LOL
Tommorow I have the day off, and Mike's only working 6am-10am. We're hoping to have Nora and the kids over with Dad and (maybe) Mom if she's not working. So that should be fairly relaxing and fun!
Title: Time Machine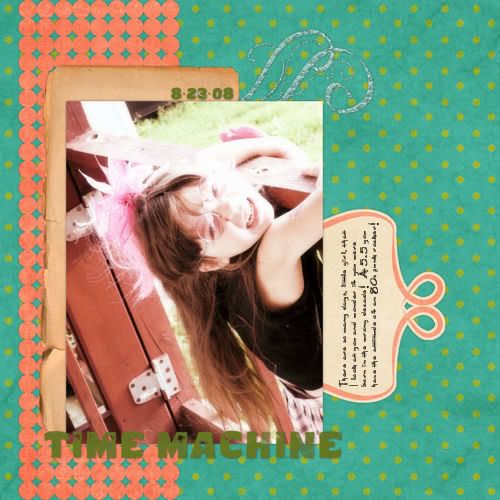 Credits:
Papers and elements from the Tutti Frutti Kit by Connie Prince of DigiDiva Designs.
Script run on photo: Age It! by Heather Manning Designs of Digiscrapping.net.
4x12 Paper Shaper Template by CrissyW.
Photo by me.
Fonts: Maxine Script; vtks caveirada
Gotta' run! Thanks for stopping by, and have a great day!
:)