Mornin' all! Well I was a slouch last night, and didn't do any scrapping. I was too busy posting over at Scrapper's Daily Dose...
I'm the newest member of their Digi Bytes CT!!!
Starting in September I will be working with them to help promote the monthly digital sponsors! This should be awesome! It's my first site CT so I'm pretty excited! There is a very friendly bunch of paper
and
digital scrappers so use the link at the right to hop over and say hi!
Brenden decided he was a rainbow leopard last night, and used the markers to show us all... Of course, this is one week after me getting home to what looked like a smurf for a son. He'd taken a blue marker (we didn't know he had) and colored about 60% of his body while Daddy was destracted... and the wall...and the window... and a cake pan... I'll try to post a picture tomorrow of his leopard work.
Micaila's very busy drawing family portraits with crayons this morning, and numbering us all. She's very good with 1-4. (Which is the number of people in our family anyway.) 5 ends up looking more like 2, and 6 is backwards... (5 & 6 are in orange)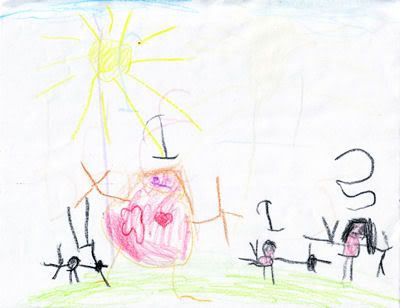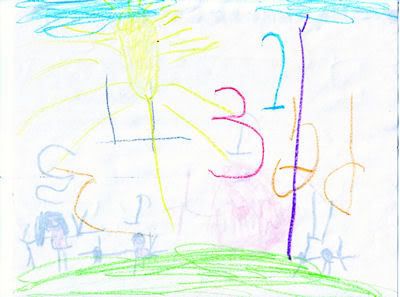 (The crayon bled through the scans a little as she drew these on the front and back of the same paper...)
On Friday the kids will be heading to Malone with Grampy to visit Great Aunt Dorothy & Great Aunt Pheobe for the day. They'll be meeting the newest addition to the family - Dorothy's new granddaughter. Hopefully I'll get lots of pics from Dad to scrap!
Mom, Nora, Mark & the kids should be getting home any minute now from visiting Blayne, Marcy, and Jaylin in VA for a week so hopefully I'll have a new crop of photos from that visit as well!
Here's the 1 LO I got done before work yesterday for Cyndi's CT: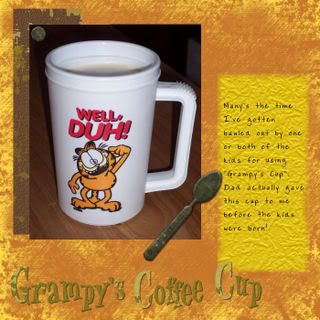 Credits:
Paper & elements from the Be Kind kit by Cyndi Wetmiller of Wetfish Designs.
Alpha created by me using paper from the Be Kind kit by Cyndi Wetmiller of Wetfish Designs and Jungle Juice font.
Fonts: Jacki's Hand