I'm at the point in my life where showers are things either snuck in before kids wake, or only done when another adult is in the house to watch the kids... More often than not I try to sneak them in while the kids are still sleeping in the morning since I'm (normally) awake at least a half hour before them.
So, I took my shower this morning, and left the bathroom door cracked slightly open so I'd be able to hear the kids if they woke up. As I am standing in the bathroom trying to dry off the door suddenly flies open, and there is Brenden! Scared the living daylights out of me as he'd not made one single sound... But, wait! It gets better... After acknowledging him I turned back to drying off, and as I reach for my robe I hear, "Mommy, you need panties!" ROFL Good grief, but this kid cracks me up sometimes! (Of course, that's not when he's decided to tear the
ENTIRE
screen out of his sister's window... which he did last night.)
Not much else to say this morning, but I'll leave you with the 3 LOs I completed yesterday.
For Karla's CT:
Credits:
Papers & elements (including word art) from the Jeweled Vintage kit by Karla Kellum of Lifesong Kreations.
Fonts: Kristen ITC
Micaila at 3 months, 1 week old.- I needed to play with my freebies!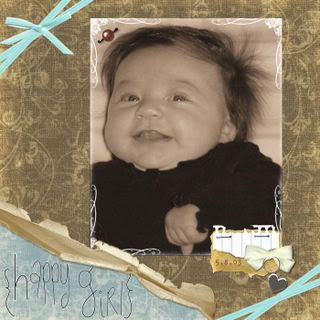 Credits:
Paper from torn paper tutorial freebie by Kim B Designs.
Bow and charm from Bitty Bow Collection by FernLili.
Ripped paper tag by FernLili.
Stapled bead by Traci King aka Florescent Jellybean.
Frame overlay by Lindsay Jane Designs.
Ribbon wrappie from Ribbon Wrappies Continued II by Laura18K.
Irregular sticker alpha by Kylie Clark Designs.
Fonts: Vintage Typewriter

A Summer LO with lots of pics for my friends at GS:


Credits:
Papers & elements from the Summer Shabby kit by Traci Sims.
Alpha created by me using paper from the Summer Shabby kit by Traci Sims and Grease Monkey font.
Fonts: Vintage Typewriter

This is Micaila & Brenden having fun with their "cousin" at our family reunion. There was a challenge to scrap something from this summer on GS, and one of the paper scrappers was noting that she very rarely sees a digi-page with more than one photo on it so I did this one! :D