Today's my baby brother's 28th bday! Does that make me old?!?!
-------------------
I have GOT to get me these... LOL
Don't know if any of you ever saw the threads at DST about Little Pet Shop Pets, and how many of the moms seem more into them than the kids... In general I think they are absolutely adorable, and my kids go through days where they say they don't want anymore - and then the next day can't live without them! LOL Well, they both got small sets in their Easter baskets, and each had a sweepstakes code inside that stated they at least won a downloadable poster... which, of course, meant they that is what they'd won. Micaila chose to download the Cuddliest poster, and Brenden chose the Sportiest poster. When I was printing them for the kids this morning look what I found on Brenden's: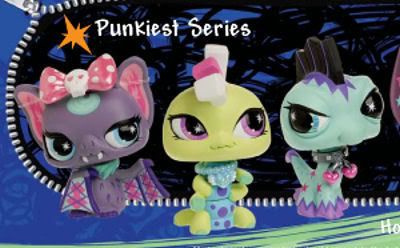 Those are ALL mine!!! I could live without the catepillar, but the bat and iguana - TOO COOL!!! Now to find them somewhere besides online... LOL
--------------------------
I finished 1 page for Princess Lala yesterday, but I can't post it 'til Friday 'cause it's for a challenge. :)
I also finished a 2pg LO that completed 2 challenges at PPF.
Title: My Reason
Credits:
Papers and elements from the Simple Goodness Collab kit by the Purple Paper Flowers Design Team.
Photos by my dad and me.
Fonts: Michelle; Mom's Typewriter
LO completes the Week #6 & March Featured Product Challenges at PPF.
-----------------------
Gotta' go do dishes and grab a shower before work. Thanks for stopping by, and have a great day!