This won't be very long, but I've managed to avoid blogging for enough days in a row... I've just been busy, tired, and not very happy, but I really don't want to go into that here.
I'm at work now, but I stopped on my way in, registered at the Miracle Crop (benefits our local Children's Miracle Network) and dropped off my stuff. I couldn't get the day off 'cause Sharon didn't want to work. I told Dad I probably have WAY more stuff than I need, but only having 2 days to pack in I didn't get any page kits put together or anything - well,... other than the ones from last May I still haven't completed! LOL It's paper city for me today 'cause I don't have a laptop. It would be nice to have one by the end of the year, but I'm not holding my breath... Mike's wanted one for about 3 yrs, and the one I managed to get him ended up being more something a kid could use for school...
I do have some
GREAT
news! Kol managed to get back the job he left last May! He's an architectural draftsman, and he left Greg because he wanted to work more with residential than commercial. However, the company he left Greg for let him go in Jan, and he's been out of work since. Every time he manage to get a nibble they'd not call back... Anywho - Greg called him on Wed and offered him his job back because his replacement walked into the office on Tues, and announced his last day would be the 3rd! I will be the first to tell you that Kol worked some LONG hrs at this place - it's only him, the boss, and the receptionist.
BUT,
the boss would also give him the company cc and a limit towards buy his camera, his EHD, things like that as bonuses for Xmas/birthday/BIG jobs, etc. and we're not talking $50 bonuses here. So overall not a bad gig. It does mean his plans to possibly move back here this summer are nixed, and that makes me a little sad 'cause he eases the loneliness a bit. But, this is awesome for him so a little bittersweet for me.
And, speaking of Kol... I can post this now!
Title: Kol - 28th Birthday
Credits:
Full credits are at home, but...
Everything by Princess Lala of Divine Digital... except
Stitches from Sew It Seems by Blythe Evans of Purple Paper Flowers.
Label from Laundry Labels - Boys by Traci Reed. (I removed the "s" from Brothers as I'm a girl! LOL)
________________________
A friend from my last job had a baby boy... on Kol's birthday!!
Title: Rioux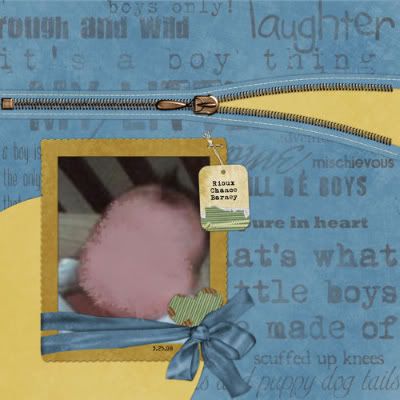 Credits:
Papers and elements from the B Is For Boy Addon Kit by Linda Cumberland of Digital Scrap Garden.
Photo by his mama!(Photo blurred as I don't have his mom's permission to post it yet! If she gives me the ok I'll come back and replace it with the cutie showing!)
Fonts: Mom's Typewriter
And, I made a QP of this page so keep watching! It'll be offered in the next few days!
________________________
Title: Family
Credits:
Papers and elements from the Family Love kit by Kutnkudly Kreations. (One paper set at 46% opacity.)
Photos by Sears Portraits.
Fonts: Mongolian Baiti
________________________
I tried to post most of this on Thursday morning, but my IE bugged out on me, and I haven't had time before leaving home the last two days...
I will also have at least 1 Desktop Calendar QP to offer up in the next few days so keep watching for that as well!
Dad has the kids at the zoo today so I'm sure I'll have some more photos to work with tomorrow while finishing up the last of my March CT LOs. It's super bright and sunny here today if a bit chilly. They're saying a high of 27 for the day... Yesterday looked like we were stuck in a snowglobe until about 5pm. Just those drifting, swirly, maybe-I'll-come-down snowflakes
ALL
day! LOL Have I mentioned I hate snow?!?!
I've got a little bit of a headache starting, and should go take something before it gets horrible. Thanks for stopping by, and have a great day!