So it's April 1st... No April Fool's joke here though! I have 2 freebies to share here and 1 to share at a site, 2 digi LOs and a paper LO to share, a crop report from Saturday, an announcement, and some previews!
-------------------
Announcement:
Kutnkudly Kreations now has a Daily Download!! Starting today, April 1st,you can stop by daily to get part of a great kit!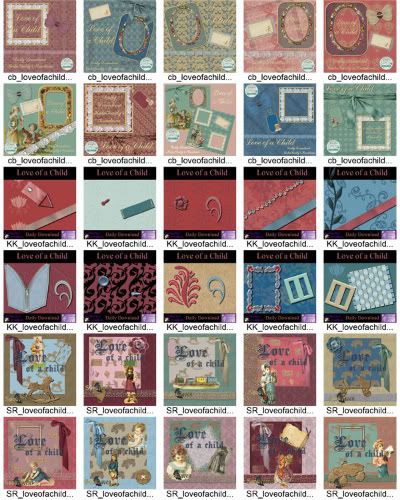 Also at Kutnkudly Kreastions... an April Desktop QP Freebie by me!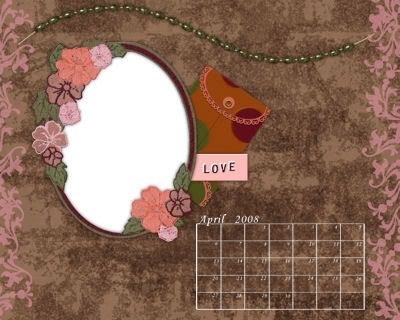 Click
here
to get it!
---------------------
I went a little crazy with the desktop QPs for my CTs this month... I made 4! 3 Sunday night and 1 yesterday morning! LOL You all ready know where to get Michelle's...
I'm offering Kristine's here this morning: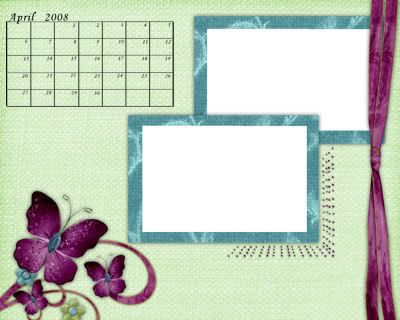 Calypso April Desktop QP
And, I also did one for Heather: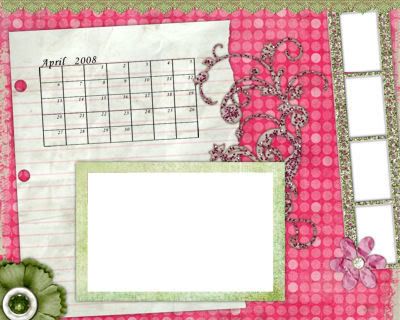 And, one for Bobbie:
Stay tuned for information how how to get those!
------------------------
I had promised you a QP for the page I did "Rioux" using the B Is For Boy Addon Kit by Linda Cumberland of Digital Scrap Garden... Here it is: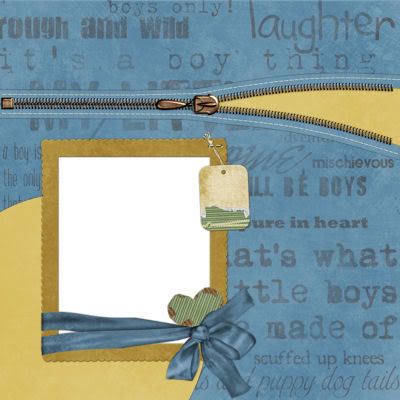 B Is For Boy Addon QP
-----------------------
Title: King of Spades (ADSR3 #9)
Credits:
Flashback paper from the Green Tinted 60's Kit by Amanda Dykan of Purple Paper Flowers.
Messy stitches and crown from the The Way You Look Tonight Elements by Amanda Dykan of Purple Paper Flowers.
Alpha from Yesterday's News Alpha by Blythe Evans of Purple Paper Flowers.
Brush from Curvy Corner Brushes by KJ Conners of Purple Paper Flowers.
Chipboard arrow from the Chippy Shapes Pack by Paula Phillips of Purple Paper Flowers.
Month chart and pointer from the Little Man Ike Element Pack by Rachel Martin of Purple Paper Flowers.
Corner overlay from the Splats Vol 1 by Theresa Hernandez of Purple Paper Flowers. (Set at 48% opacity.)
Tab from the Sweetest Thing Kit by Krystal Hartley of Purple Paper Flowers. (recolored)
Photo by Brenden.
____________________________
Title: My Handsome Little Man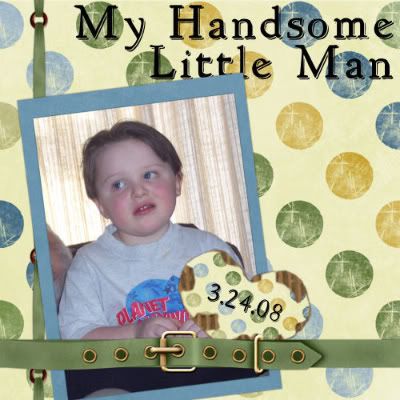 Credits:
Papers and elements from the B Is For Boy Addon Kit by Linda Cumberland of Digital Scrap Garden.
Photo by me.
Fonts: NewStyle Embossed
--------------------------
So,... on Saturday... I managed to get to about 6 hrs of the 12 hr crop. I felt really disorganized 'cause I ended up "packing" in about 3 hrs Friday night/Saturday morning which meant I didn't have time to get any page kits together like I normally would for a crop. I did have some left from last May for my San Francisco album which I took, but I really wasn't in the mood to work on them. In the end I completed 20-8x8 pages for an album using a coordinating paper pack/chipboard pack/and album with some Bazzill; 6-12x12 pages of various themes; and covered a 12 page board book (14 if you count the covers) so that all I need to do is add photos and embellies!
I'm trying to upload the 20pg album to Scrapjazz as I blog, but it's being a booger. It'll only let me upload 1 pg at a time. It may not be all done before I leave for work, but if you want to see it click here. I've all ready uploaded the 6 random pages and the board book... I did want to share my fav LO from Saturday here though...
Title: Brenden only you...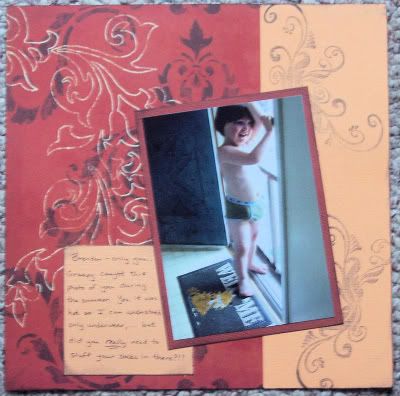 Not sure you can see it from the bad pic, but he's got socks stuffed in his undies! ROFL!
-----------------
That's about it. I spent a good portion of yesterday downloading my April CT kits. I managed to avoid doing the taxes again which means I should do them tonight... Yesterday was my last Monday off for the year. Next week I'm back to 6 days a week at work...
Gotta' run! Thanks for stopping by, and have a great day!