Where, oh, where is the year going?!?!?! Well, I'll have an exciting announcement tomorrow for one of my CTs!
Today... I have 2 LOs I haven't shared yet, and some NSD goings-on to share!
NSD Annoucements:
Kristine's
having a big NSD sale... 30% off
EVERYTHING
in her store! New releases, old favorites,
AND
commercial use!! Sale starts now, and ends Sunday, May 4th at midnight EST!! There are even 2 brand new, never before seen kits included!! Check it out
here
.
Heather Manning's
CT is having some big-time fun for NSD as well! Heather has a collab with Dawn Inskip being released on Friday; (Gorgeous let me tell you!) a chat at 9pm EST on Saturday, May 3rd at DST; a new Grab Bag;
AND
a challenge that you don't want to miss! You can check for more details on the challenge
here
.
Purple Paper Flowers
is launching a new bunch of challenges starting Saturday, we have a QP Exchange going on for NSD,
AND
the entire store is on sale on Saturday!! For full details on the QP Exchange click
here
. (Or, scan down to my last post!) For the new challenges watch our Challenges andContests Forum at PPF. :)
Digital Scrap Garden
is having a sale, a hunt for a free Mega Kit, and some other fun stuff including a Shutterfly giveaway!! For more details click
here
.
That rounds out the details I have at the moment. If Iget more I'll be sure to share!
-----------------------------------
Title: Walk-about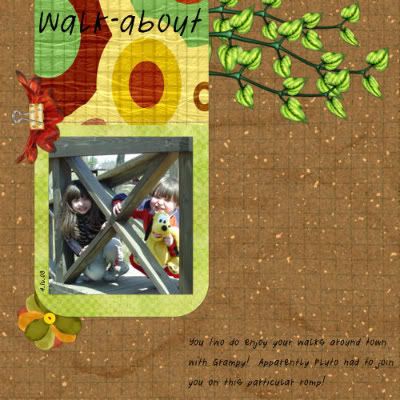 Credits:
Papers and elements from the Fiesta Flavors Kit by Ladybug Graphix of Digital Scrap Garden.
Stitches from the extraORDINARY Stitches Pack by Purple Frog Pizzazz of Digital Scrap Garden.
Photo by my dad.
Fonts: Dylan Ariel
_____________________________
Title: Spring Cleaning
Credits:
Papers and elements from the Lilac Twilight Collab from the PPF Design Team.
Photos by my dad.
Fonts: Jane Austen; Horse Puke
I have a bunch of April CT work to try to catch up, 3 pages to finish for Michelle's QP album (I realized it has to be 20 pages not 21...), and am hoping to get a 6pg bragbook QP album up for Kristine by Saturday. I finished the 10pg album for Bob on Saturday, and am waiting for feedback...