I applied for a position designing bragbook and regular QPs for a designer who was holding a call for both "regular" CTs and QP design CT members. I figured it would be a way to get a little extra money while scrapping... I submitted my "try out" pages last night, and this morning got an email inviting me to join the CT - as a regular CT member. Don't get me wrong - I'm grateful for the invite, but I just cut back on my CTs. I was hoping for the little extra income doing what I love.
So,... if you are a designer reading this, and would be interested in me for that kind of position please email me at
absolutartist1@gmail.com
. I'm ready to try my hand at making them for (small - I realize it won't be much) profit, and could probably handle 2-3 designers depending on how prolific they are.
----------------
Moving on - Heather and I completed ADSR3!!! YEAH!! We finished and submitted our final challenge LOs last night/this morning! Here's my #11:
Title: Beauty In Flight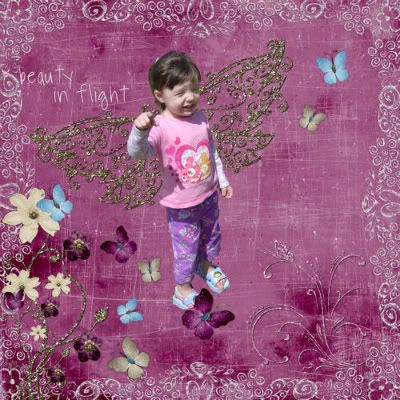 Credits:
Paper, wings, vine, flowers, and doodle with butterfly from the Dazzle Kit by Kristine of WenchdGrafix.
Purple butterfly from the Calypso Kit by Kristine of WenchdGrafix.
Blue and tan butterflies from the Iced Fudge Kit by Kristine of WenchdGrafix.
Photo by me.
Fonts: 2Peas Scrapbook
LO completes ADSR3 Challenge #11.
___________________
I provided the photos and journaling for #12, and this is what Heather scrapped for us:
Title: Manhattanite? Not!!!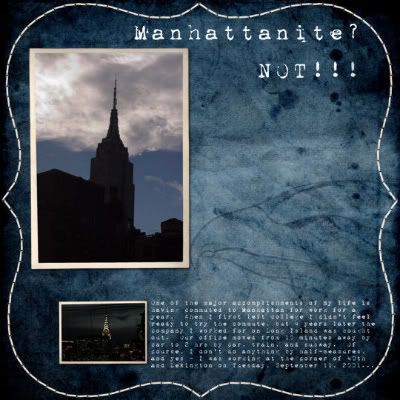 credits
here
I've got to go before I tie Brenden to a chair to keep him out of trouble... Thanks for stopping by, and have a great day!