Got a dr appt this morning so I have to leave early. Yrly BS that I have to deal with or they'll refuse to provide my birth control and I am SOOOO not getting pregnant again... Love my kids - HATE being pregnant.
Anywho -here's my new camera: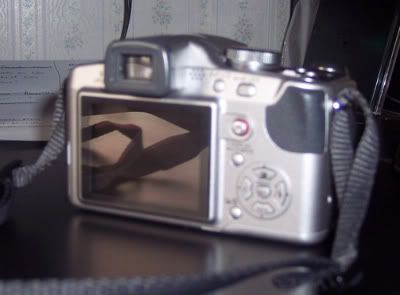 You can switch btwn LCD and viewfinder, and it shows all the same goodies in the viewfinder as on the LCD. I took 75 pics that I kept yesterday so I probably took about 90 in all! LOL
I also finished 1 LO last night...
Title: And, YOUR Problem Is????
Credits:
Paper and elements from the Challenged - The Kit Kit by Purple Frog Pizzazz of Digital Scrap Garden.
Photo by my dad.
Fonts: Catnip
---------------
Gotta' run! Thanks for stopping by, and have a great day!