I have no clue for a title this morning... I was running late, and had to wait 'til I got stuff settled at work to post.
Last night I got home, and started a download from Bob's ftp to make sure it worked while we walked the 3 blocks to Brenda's for dinner. The kids actually ate almost their entire dinner! I order 10 chicken nuggets and 1 order of curly fries to split between them, and we normally end up coming home with almost 1 whole dinner between the two of them. Last night we only had 3 nuggets and about 4 fries left so Mike and I ate them! LOL
We got home, and the download had worked perfectly so I set up the rest of the files to download, and started multi-tasking. I got Micaila in the tub for her bath, took the plastic off the two windows we'd covered for the winter, uploaded a QP for Kristine's store, delivered 1 CT QP via email and one via Hello, and unzipped a bunch of CT files to start working on some LOs. I got 1 LO started, and had to get Micaila out of the tub. Then I realized it was 9pm - an hour after their bedtime... no wonder I was tired! LOL
I got up this morning, and finished the LO.
Title: Miss 'Tude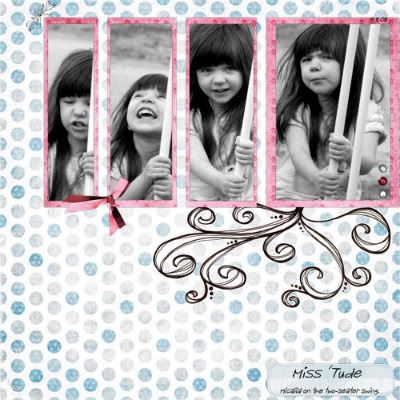 Credits:
Papers, ribbon, gems, and label from the Hugs, Kisses & Cupcakes Kit by Princess Lala of Divine Digital.
Corner doodle from the Flower Doodles Pack by Princess Lala of Divine Digital.
Large doodle from the Sweet Paper Swirls Pack by Princess Lala of Divine Digital.
Photos by me.
Fonts: Emily
LO design scrapifted from Amy Head. See
here
.
-----------------------
I've got my 2nd QP up for sale!
You can snag it
here
.
And, remember Dazzle is still 30% off for the full kit!
------------------
Gotta' run! Thanks for stopping by, and have a great day!