Mornin'! Well, the cats were good. BTW - we take them in carriers! Not loose! LOL We picked up the car. Not on the way home as we'd hoped because it was blocked in, but last night. Had them move it, and lock the keys in it. It started fine - ran like it always did... About a 1/4 mile up the road it started running a little funny, and by the time I was 3/4 of the way home I think it was down to 2 cylanders firing again... It's only about 1-1.5 miles from the garage to my house... It sounded so horrible by the time I got to my house I wanted to cry.
I ended up taking the day "off". I didn't do the taxes as I should have, and I didn't get any CT work done. I was just tired. When I got home from Gouverneur with Dad and the kids I fell asleep on the sofa, and had a 3 hr nap. I just needed a break. Period.
I finished this before work this morning:
Title: Daddy's Little Girl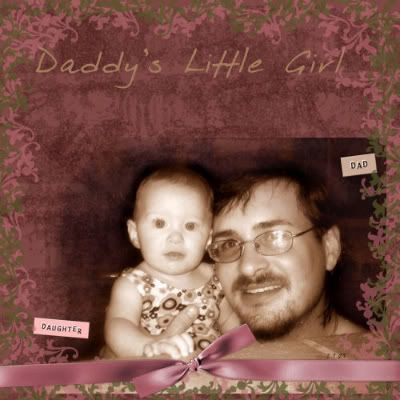 Credits:
Papers and elements from the Family Love kit by Kutnkudly Kreations.
Photo by my SIL, Marcy.
Fonts: DJB CT's Rock
Gotta' run 'cause I'm at work! Thanks for stopping by, and have a great day!