I hate that I've managed to get to a point where I only post every 2-3 days... I was so good about posting every day at about the same time for sooooo long. Especially considering I wasn't sure I wanted to do this as I wasn't sure anyone would want to "hear" what I have to "say"! LOL
Oh well,... life happens! I've been busy as usual, but I did manage to finish 1 LO last night, and another this morning. I've been awake since 4am... Something woke me up, and I just couldn't get back to sleep. But I used the time constructively... I got one load of laundry washed & 1/2 dried before we left home, and cleared about 25GB off my EHD. I moved the files to my C drive temporarily, and am burning them to DVD before deleting them. I managed to get 3 DVDs burned and a 4th was left burning. You know - after downloading the HUGE "Grateful 4 U" kit that some of the digiworld designers put together for their CTs I only had 95GB left on my EHD. (I did that downloading this morning as well.) Besides, I still had all the goodies I started downloading when I first started digi - most of which I never touch! I probably need to burn at least another 7-8 DVDs to get this all off the pc.
On a good note I am completely caught up with all of my LO uploads. Of course, slowing down on making them helps!!
Today Mike and the kids dropped me off at work. They're runnning to a dollar store on the other side of town, and then going to the credit union's Easter party at Velocity - a local "arcade" type place. That party is only from 11am-1pm so I couldn't go as there was no one else to cover for me at work today... Boss is on his way to Colorado for skiing for 5 days and Sharon's busy getting ready to go downstate for her son's graduation from CIA next week. Anyway, they'll be stopping somewhere for lunch afterwards, and then bring me something when they pick me up so I can eat on the way up to the zoo for
their
Easter party! Might as well get it all out of the way at once, right?!? Dad's meeting them at Velocity and then meeting us all at the zoo so at least I'll have pics since I can't go to the first party.
So, on to the LOs...
Title: Sometimes
Credits:
Papers, alpha, and elements from the Simple Goodness Collab kit by the Purple Paper Flowers Design Team.
Photos by me and my brother, Blayne.
Fonts: Brankovic
___________________________
Title: May All Your Days...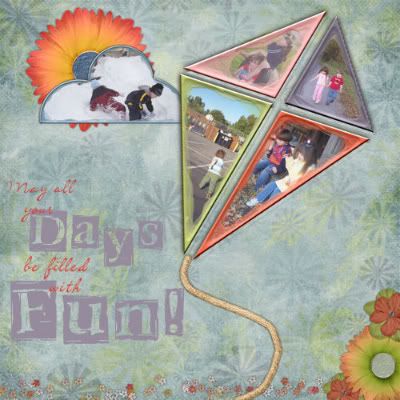 Credits:
Papers and elements from the Simple Goodness Collab kit by the Purple Paper Flowers Design Team.
Photos by me.
Fonts: CK Heritage;CK Scratchy Box
Once I saw the acrylic cloud & kite in this kit I couldn't get this image out of my head fast enough!!! LOL
-----------------
That's it for today... Thanks for stopping by, and have a great day!