Well, not really. The weekend never seems long enough for all I SHOULD get done... Like the taxes. I just have no desire to deal with them - even though I KNOW we need the money... Anywho - the majority of Saturday afternoon/evening was spent goofing off with the kids so that I only got 1 LO done...
Title: Micaila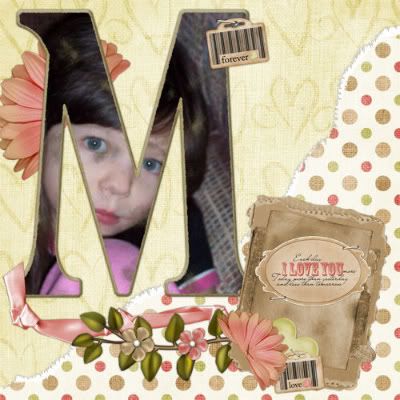 Credits:
Papers and elements from the Sweetheart kit by Linda Cumberland of Digital Scrap Garden.
Photo alpha template by Anita Stergiou.
Photo by me.
______________________________
Then on Sunday, as I posted yesterday, we lost our power for about 9.25 hrs. It was really odd 'cause I was cooking lunch on the stove (electric range). I turned the burner off, and walked across the kitchen to get some shredded cheese out of the fridge - to find no power! Wierd... Thanks heavens I had finished my ADSR LO, and gotten it uploaded prior to the power outage, or I would have been disqualified...
Title: Random Pieces of Me
Credits:
Background paper, notecard, journal stamp, border stitching, and staple from the "Seriously? Seriously." kit by Karah Fredericks of Blue Flombingo.
Frames from the Tattered Frames by One Scrappy Mom available at One Scrappy Shoppe.
Heart sticker from the All My Love set by Miyon of Scarlet Heels Media.
Alphas from the Netters Alpha Scraps, Red Alpha, Painted Alpha, and Tinfoil Alpha sets by Miyon of Scarlet Heels Media.
Labels from the Krafty Labels set by Miyon of Scarlet Heels Media.
Photo by me.
Fonts: FG Cheryl; FG David
LO completes the ADSR3 #4 Challenge.
______________________________
And, then there's yesterday... I woke up with another massive headache that just didn't want to end. I was up for a little over 2.5hrs, and laid back down to take a nap. (Don't worry-Dad was here for the kids.) I woke up 3 hrs later to no headache - just those small nagging pains that flirt around an edge of a headache. We had lunch, and watched Unaccompanied Minors - another good movie btw. I was still feeling loagy though, and had just started a LO when Mike walked through the door an hr early from work. So I only got 1 LO done yesterday as well...
Title: Irony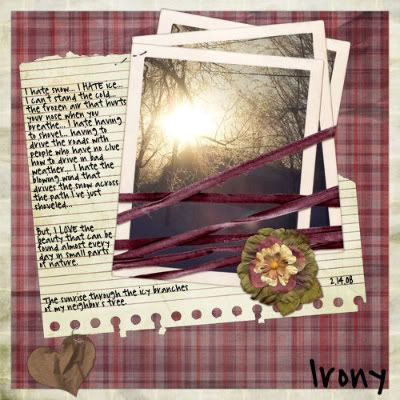 Credits:
Papers, frame cluster, flower, and heart charm by Heather Manning Designs from the Come What May Collab kit available at Purple Paper Flowers.
Reversed staple from the Close It Commercial Pack by Heather Manning Designs available at Purple Paper Flowers.
Photo by me.
Fonts: Byrony
-------------------
From there I sat down with the kids at 8pm to watch Brother Bear as a way of getting them ready to fall asleep... They
REALLY
don't wind down at night. I was a little surprised because they both laid there to watch it without getting up and running in circles the way they normally do when a movie is put on...
Now, I did
START
another LO last night, but didn't get a chance to finish it. So,... I need to go do that before I have to do dishes, take a shower, and run out the door for work! Thanks for stopping by, and have a great day!