'k... So in typical mostly German-Irish-white girl fashion I burn easy - VERY easy. In typical too-many-things-going-on mom fashion I forget sunscreen. I'm also currently on Cipro to deal with a UTI which states on the label to avoid prolonged exposure to direct real or artificial sunlight. Do we see where I'm going with this?!?! LOL I look like a heavy Smurfette this morning except that I'm red instead of blue!!! Arms, top of the chest, top of my back, back of my neck (except where the camera strap was), tops of my feet, backs of my fingers, side of my shins, backs of my calves, AND back of my left knee!! I mean directly in the BACK of the knee!?!!?!
Hasn't modern medicine thought of a pill to help prevent sunburn?? I
MIGHT
be able to remember that! Broccoli is supposed to help, and lord knows since my kids love it I tend to eat it at
least
once a week...
Anywho - I meant to be out of the house for 1-2 hrs tops. Ended up being out for just over 4. At least I had to run to Super WalMart afterwards for groceries... I grabbed a thing of Aloe gel while I was there. It helps for about 2-5 minutes after application! LOL
I got 2 templates created before we left yesterday morning, and started a 3rd which I finished in between the two trips. 2 of the 3 were based on LOs created by evitangel which I loved, and the 3rd from a LO at the GSO blog. Kind of a twisted scraplift so I can use them again. Hope Gabs and Helene don't mind. :)
I used one of the ones from Gabs to create a LO this morning...
Title: Just the Two of Us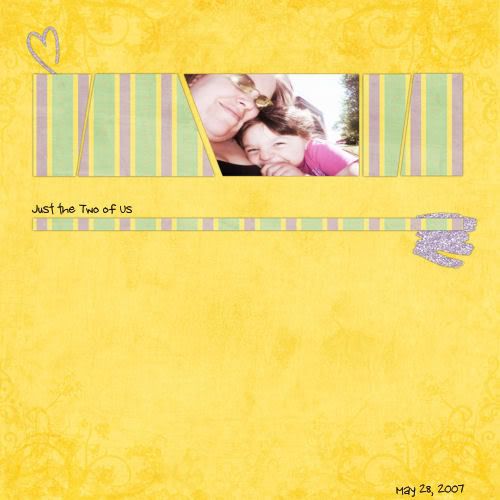 Credits:
Papers and elements from the Julie's Bunny kit by Kristine of WenchdGrafix.
Script run on photo: Age It by Heather Manning Designs of Purple Paper Flowers.
Scraplift of LO 354 by evitangel. (Can be seen
here
.)
Photo by me.
Fonts: Emily
Gotta' run before the boss gets back from lunch!
:)