It doesn't seem possible, but tomorrow I have to go register Micaila for kindergarten in the fall. May flew by even though it felt like it was crawling. I didn't even complete 1/2 of my CT LOs. I'm hoping to get a strong start for June though so things get back on track. Organizationally I'm on top of everything - creatively not so much.
I have a Father's Day card & gift for Mike; card for my dad from me; and gift for my FIL. Dad had all ready printed a card for my FIL from the kids so I'm not buying one. I also have an anniversary card for my SIL & DH for next week. And, I have asked for and extra goodies ready to package up for Kristine.
I have a clock I want to alter. I'm thinking about using the Princess part of MME's Boys and Princesses Digital Kit with some goodies I found at Big Lots... Then I can hang it in Micaila's room. I also have a mini lunchbox tin I found with candy at the $1 store to alter...
It's cruddy out so I can't go finish up the planting we started over a month ago. My broccoli plants are starting to get heads on them, and are still in the planter they came in from the store! I was hoping to get that finished up today, but no such luck. Instead, I have done 2.5 loads of dishes, am washing the 2nd load of laundry (with 1 more to go), swept the kitchen, and with help from Dad and the kids, done a Wally World run, vaccuumed the entire downstairs and put away 1 load of laundry.
Yesterday I was so blinkin' busy at work that I had 2 kids walk out, and had to call the boss in from home. I generally work Saturdays alone except for a few weeks during prom season when he thinks I'll be busy. This year prom season is running about 2 weeks longer than normal so with the few proms that are left he didn't think I would be that busy - and I probably wouldn't have been - except I had 3 wedding parties walk in as well as the prom kids. And, a mom walk in to pay her son's sitting fee, and a couple who wanted a gift certificate, and 2 calls asking for info about senior portraits (where they wanted me to describe all options to them in detail, but I managed to put them off by mailing it to them due to being busy), and 6 calls asking what time we close on Saturday, and Oh! aren't we open on SUNDAY?!?!?!?! Folks, I all ready work 6 days a week - don't make it 7...
'k... so I'm sick of witchin', and I'm sure you're sick of reading it! LOL So, here is a LO I finished before work yesterday, and 2 from last night...
Title: Where a kid...
Credits:
Papers and elements from the A Grape Awakening Kit by Heather Manning Designs of Purple Paper Flowers.
Photo by DH.
Fonts: Tuna and Hot Dogs on Rye
_______________________________
Title: Signs of Spring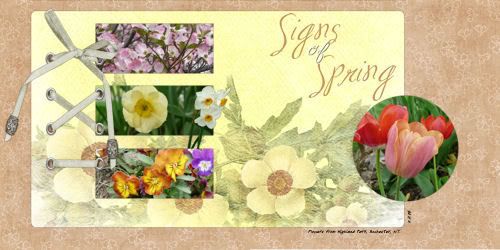 Credits:
Papers and elements from the MabelCollab by the Purple Paper Flowers Design Team.
Photos by me.
Fonts: MA Sexy; Natalie
_______________________________
Title: Enjoy each day...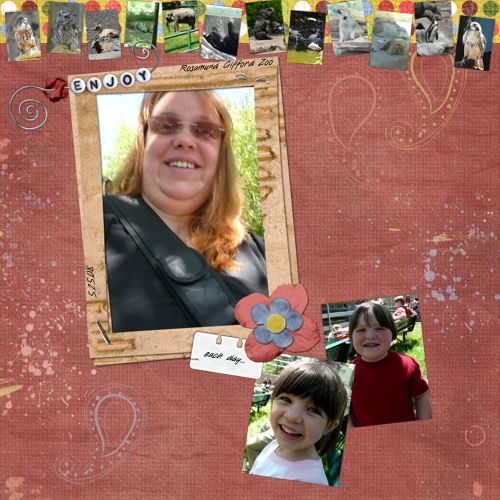 Credits:
Papers and elements from the Marigold Sky Freebie Pack by Amanda Dykan of Purple Paper
Flowers.
Photos by me.
Fonts: Note This
_______________________________
On an up note we sold our first Senior Showcase Album at work so I did "scrap" 10-8x8 pages at work this week. Using my templates it only took me about 4 hrs total to complete the album. :)
I need to go get some scrapping done, and maybe vaccuum upstairs. Thanks for stopping by, and have a great day!