Dad did make it to UT ok. His connection got delayed by a little over 2 hrs which made the trip tons of fun. He ended up not getting in to Salt Lake City Airport 'til about 2:30am. But, he's there - safe & sound, and having tons of fun with Jaylin! (...and Blayne & Marcy!) He sent me a couple of shots from the last couple of days, and OMG has she grown!!! And, she's got this ridiculously orange shock of hair that looks fairly untameable! LOL I want to get a LO done with one of the pics later today.
I'm at work now. Dropped the kids at Aunt Nora's on the way in. They were super-excited to be spending the time with Nora, Mark & the kids. It didn't hurt either that Mark's best friend's son is having a birthday party today so they're heading there... I'll be picking them up after work to head home.
I thought I had everything ready to go this morning. The kids woke me up at 6:30am ready to "ride to Aunt Nora's". Just after pulling away from her house I realized I forgot my dose of Cipro... I'll have to take it as soon as I get home, and then just before bed I guess.
I'm thinking baked beans and Cheddar Lil Smokies for dinner... Of course, it just hit me that I probably should have stuck them in the crock pot before I left! LOL It's not like I was a complete deadbeat this morning... I cleaned up the huge mess Brenden made in the kitchen with some almost dead flowers and the cat's water dish, put the comforter that was in the washer out over the deck rail to dry, got the kids breakfast, threw a new load in the washer, got an extra change of clothes for each kid into their "diaper" bag (it's a backpack), created a coupon for a CT member at PPF, cleaned out my email, mailed the bills, took a super-quick shower, and created a LO. You know - a
TYPICAL
morning! LOL I didn't do the dishes, but honestly there were only about 6 dishes
IN
the sink...
Oh! I also rubbed Aloe gel into my shoulders 3 times 'cause I started peeling yesterday. My left shoulder is much worse than my right. It still has a red area that is hot to the touch...
Title: Make Me Smile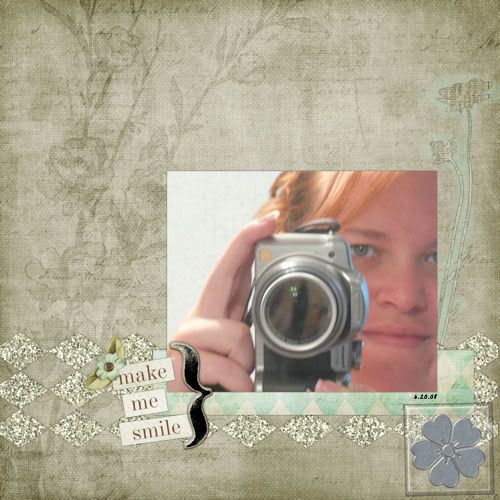 Credits:
Papers, paper flowers, glittered harlequin pattern, small flower, and word art from the A Little Birdie Kit by Nicole of Sugarplum Paperie.
Bracket from the Painted Brackets Freebie by Nicole of Sugarplum Paperie.
Large flower from the Metal Flowers Freebie by Nicole of Sugarplum Paperie.
Glass from the Small Glass Square Freebie by Nicole of Sugarplum Paperie.
Photo by me.
Fonts: GG Herb Script
LO was created for Nicole's Blog Challenge going on this weekend!
_______________________________
Title: The Future Starts Now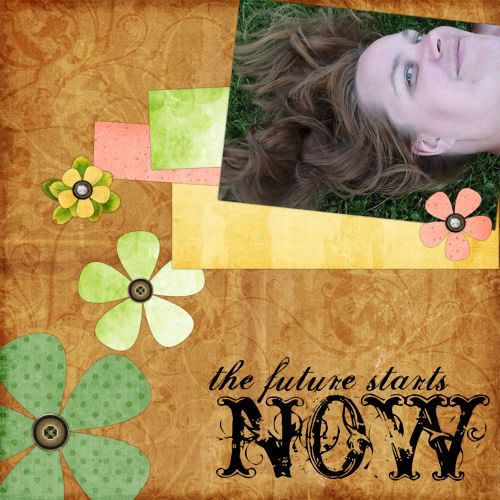 Credits:
Papers, word art, and elements from the A New Beginning Kit by Blythe Evans of Get Digi With It.
Script run on photo: Soft Wash by Heather Manning Designs of Get Digi With It. (I used the scripted photo as an overlay to reduce the sunburn.)
Template by me.
Photo by me.
I seem to be creating a few AAM pages lately... Gotta run as I'm at work! Thanks for stopping by, and have a great day!
:)