Today's the day... I have off work to go get Micaila registered for kindergarten. I thought I was ready for this. I expected the first day of school to be a small issue, but not this. Instead I've been awake since 3am when Mike's alarm went off for him to get ready for work. Can't shut off the brain to get back to sleep... It did allow me to finish a LO I started last night, and then couldn't figure out what to journal about on as it started as an AAM page... It morphed...
Title: Spread Your Wings, Baby...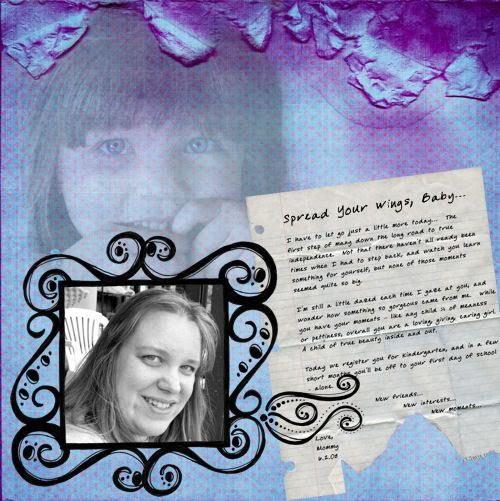 Credits:
Papers from the Note 2 Self Kit by Princess Lala of Divine Digital.
Doodles from the A Bit Swirled Pack by Princess Lala of Divine Digital.
Photos by me & my dad.
Fonts: FG Cheryl; FG David
And, if you can read it and the journaling doesn't make you at least tear up then there's something wrong with me 'cause the tears were just runnin' as I typed it...
**Edited to add journaling:
I have to let go just a little more today... The first step of many down the long road to true indepdence. Not that there haven't all ready been times when I had to step back, and watch you learn something for yourself, but none of those moments seemed quite so big.
I'm still a little dazed each time I gaze at you, and wonder how something so gorgeous came from me. While you have your moments - like any other child - of meaness or pettiness, overall you are a loving, giving, caring girl. A child of true beauty inside and out.
Today we register you for kindergarten, and in a few short months you'll be off to your first day of school - alone.
New friends...
New interests...
New moments...
Love,
Mommy
6.2.08
_______________________________
I also finished a LO last night...
Title: The Exotic Birds of Rosamund Gifford Zoo
Credits:
Paper and elements from the Sorbet Kit by Kristine of WenchdGrafix.
Photos by me & my dad.
Fonts: CK Greeting Card
_______________________________
I also have another that I saved as a QP because I'm waiting on new photos of Jaylin to complete it. I'll probably be giving a freebie in the next few days. As you can tell I'm feeling a little more myself. Still not all the way back, but better!
I should go grab a shower before the kids get up as I have a ton to do today including LOs! Thanks for stopping by, and have a great day!