It's Thursday... I've been off work since 1:45pm on Monday though so it feels like I had a real weekend! LOL Due to snow Gary & I were the only two at work on Monday so he let me leave 15 minutes early. The roads were horrible on the way in, but were better by the time I was heading home.
--------------
My sister's family and my parents ended up at my house on Tuesday. Makes for a very full house as Nora has 4 kids - 3 of which are boys. We had a good time though. Nora brought over a cake for Krysti so we didn't have to try to do that. (Krys is a Christmas baby.)
I managed to finish datebook covers for Mom and Nora while everyone was at the house. We don't have enough seating for 12 in the livingroom anywho so I sat at the pc for part of the day... It is still in sight of the livingroom...
Title: Datebook 5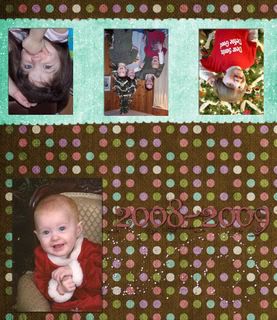 Credits:
Papers and elements from the Winter Wonderland Collab Kit. (I believe most if not all were designed by Ellie Lash.)
Photos by me, my dad, and ?. (Not sure who took the photo of Jaylin.)
Fonts: Beyond Wonderland
_________________________
Title: Datebook 6
Credits:
Paper and elements from the Color Revolution - Stunning Sapphire kit by Connie Prince of DigiDiva Designs available at Gotta Pixel.
Grunge frame overlay by Penny Springmann available at Sweet Shoppe Designs.
Photos by me, my dad, and ?. (Not sure who took the photo of Jaylin.)
Fonts: Beyond Wonderland
------------------
I didn't get much accomplished yesterday. I dropped off the paperwork at the lawyer's office because they weren't open on Monday. Then we went to the mall because Mike's dad got us each gift certificates to Sears... Couldn't find anything we wanted there, but at F.Y.E. I got Buffy Seasons 3 & 4 on DVD for $48! Season 3 was new & on sale for $23 while Season 4 was used for $25 (more DVDs in the set). We stopped at Super WalMart on the way home so the kids could pick out their gifts from Grandma with their gift certificates, and got caught in that computer glitch issue. Micaila chose a "normal" sized Pinky Pie & Rarity the Unicorn, and a Ponyville Pinkie Pie with tea set. Brenden chose a Hot Wheels set and 5 pack of Batman Hot Wheels cars. The GC system wasn't working for them at all yesterday so those GCs will now pickup groceries this weekend! LOL I managed to avoid trying to do any of the dishes until about 8pm when I did 1 large load. I did a second large load this morning, and still left a few pots in the sink at the end of that session...
----------------
Oh! That reminds me... I wish I knew how to upload a MP3 file onto Blogger because OMG!!! do you have to listen to the call Micaila got from Santa... Someone posted a link on DST that you could use to set up a free call from Santa. I set one up for each of the kids, and Micaila spent most of her call telling Santa off for not getting her the right gift when she was on LI. (I was not made aware that somehow "Santa" decided to come early down there and left them gifts at Thanksgiving...) Brenden ended up hanging up on Santa because the recording glitched, and he had no sound when he got on the phone.
-----------------
I did finish 1 LO this morning for a contest. I'm not sure if I'm allowed to post it here so I'm not doing so yet. But, there is still time to enter if you want... Check out
www.seascrapsdesigns.blogspot.com
for details! Deadline is the 29th.
-----------------
Gotta' run!
Thanks for stopping by, and have a great day!