Sorry folks, but kids have been needy and sleep has been scarce so I didn't manage to build another freebie this week.
I did finish these two LOs last night:
Title: A Visit with Santa
Credits:
Papers and elements from the Santa's Vintage Suspenders kit by Fantacy of Scrappin' Hillbilly Sweetpea Designs available at OAKS.
Photo by The Noerr Programs.
Fonts: Beyond Wonderland
Isn't that kit gorgeous!! I think I may be using those overlays on a few other LOs soon... :)
_________________________________
Title: Frosty Morning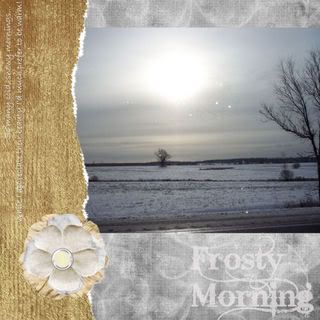 Credits:
Papers and flower from the Flashy New Year kit by Heather Manning available at Plain Digital Wrapper.
Fonts: Bledding Cowboys; Bradley Hand ITC
I don't have New Year's photos because we never do anything special, but these worked GREAT for my nature photo!
----------------------
Gotta' go get kids ready as they're dropping me off at work today...
Thanks for stopping by, and have a great day!
PS - Oh! I've forgotten to mention that I had LOTW at DSO this past week! Christmas Preparations using Winter Mix by Connie Prince and ACM Designs!
AND
, I just found I've gotten LOTD at DD
and
SDD today for February 27, 1947 using Let It Snow by Julie Kelley! !