First - PPF is looking to add to our Site CT!
***
For those who can't see the ad:
Purple Paper Flowers
is looking for YOU!
PPF is a growing community and we're looking to add a few new Blue Belles (Layout Artists) to our team.
If you're looking for a fun team to join - this is the one! There are tons of great designers at PPF so go check it out!
Requirements:
*4 or more LOs per month to be posted in at least 3 galleries including PPF
*Host a bi-monthly challenge OR post a minimum of 25 times per week in the forum
*Enable designers and kits
Easy Peasy!
Please email me
einahpetsm@gmail.com
with the following if you're interested:
*Current CT responsibilities
*link to best/most complete gallery
*a short bio & a little about why you think you'd be a good fit at PPF
___________________________________
Second - I have the new
Templates with a Twist Challenge
up at PPF, and you get a free template to use for it!
___________________________________
Third - Heather Manning's CT has an awesome Font Challenge up on our
blog
for July! It's not your normal font challenge though!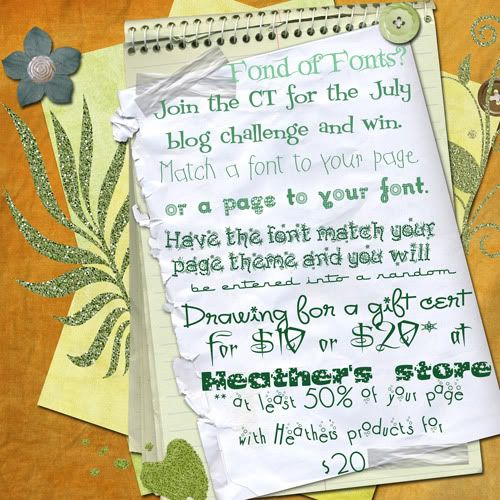 ***
All you have to do for this challenge is match a font to the theme of your page. Make sure that you link your page back to the CT blog and include the font name. And as always, there will be a random drawing for a gift certificate to Heather's store. The winning layout will get at least $10 to play with, but if your page has 50% or more of products by Heather, will increase that gift certificate to $20. And just for participating, you'll get a new alpha that Heather made which coordinates with her newest kit Some Gave All!
___________________________________
Fourth - I'm offering up the template I created while making the LO The Future Starts Now. :)
Click
here
to download.
Gotta' run! Thanks for stopping by, and have a great day!
:)