I meant to point out of my 250th post, but with the diabetes bs I forgot... This is actually post 252, but hey! Better late than never, right?!?!
I haven't felt much like talking the last few days. Kinda' just wallowing in the "poor me" feelings. Not real healthy I know. But, jeez, I poked myself
EIGHT
times Thursday morning, and couldn't get enough blood into the test strip for the test. And, that's using "the world's smallest needed sample" test kit... I wasted like 5 test strips and 4 lancets, and had myself so worked up by the 8th time that I was dizzy and naseous so I gave up and laid down for 5 minutes. It took 2 pokes and 2 test strips yesterday, and 1 today. Of course, with only minor adjustments to my diet (as the doctor didn't give me any new guidelines) my sugar went from 275 on the 17th to 245 yesterday and after 1 dose of the medicine to 216 this morning. I have to run though so...
1 LO from last night...
Title: Summer Memories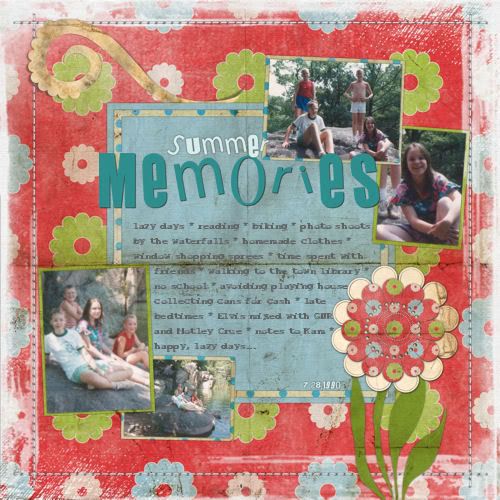 Credits:
Papers and elements from the So Shabby Spring Kit by LSDS Designs of Scraphead.
Template by Amanda Kleparek of Scraphead.
Photos by my dad.
Fonts: Sex Pistols; SF Espionage Medium
Yes, that is me with my sister and brothers...
__________________________________
And, 1 from this morning...
Title: Boom!
Credits:
Background paper from the Black Light Paper Pack by Heather Manning Designs of Digiscrapping.net.
Purple paper and cardboard swirl from the A Grape Awakening Kit by Heather Manning Designs of Digiscrapping.net.
Template by me.
Photo by me.
Fonts: Kingsthings Flashbang; Kittie
---