So, I'm still not entirely over my PO'd issue. I was waiting for an email since last Sunday, and when I finally got it on Friday it was not what I had been expecting. So now I'm waiting for an answer to my questions regarding the changes made in the email. I know this sounds a little clandestine and all, but I really don't want to create drama that doesn't have to exist.
In a nutshell I'm not happy about the way some of my duties have been going for one of my teams, and I need to make a decision whether to stay or go. But, I feel like I am missing vital information to make the best decision for me. I don't really want to leave, but with the changes made I'm not sure staying is a good idea as I think it will just make my life even more stressful.
It's drizzly and gray here today. I'm hoping the weather's better in Syracuse 'cause we're heading out in about an hour or so for the family reunion just south of Syracuse. My niece, Krysti, spent the night so she can go with us, and is currently taking a shower with Micaila. Two birds - one stone.
Mike went after Brenden's hair with scissors on Thursday. Supposedly, Brenden
begged
Daddy to cut his hair... FYI - never let men near kids with scissors... I guess it could be worse. Mike's been threatening to buzz Brenden's head with the clippers for over a year. Instead this
may
grow back to looking normal in about a month... At this point I have tried to clean it up a little, and then Dad did.
----------------------------
On to scrapping news...

I applied for Miss HunniBunni's Guest spot, but didn't make it. I've also got 2 other apps out right now. Crossin' my fingers...
------------
Digital Scrap Garden is holding another designer contest. For details check
here
. Contest starts Aug 1, but application deadline is July 18th so hurry over!
Also, we'rehaving a membership drive if at least 2 you join the Garden and tell them I sent you we'll all get the pretty kit shown in this
thread
.
------------
We've got a blog hoppin' mega kit party we're setting up for this fall. Deadline for pieces is Oct 1. So if you are interested in being a part of that please email wenchdgrafixdesigns AT gmail DOT com. We're up to 30+ participants at this point!! Let's make it
really
huge!
------------
I have 1 LO to share. Between headaches from sinus issues and life I haven't gotten much done this week...
Title: Thompson Park Playground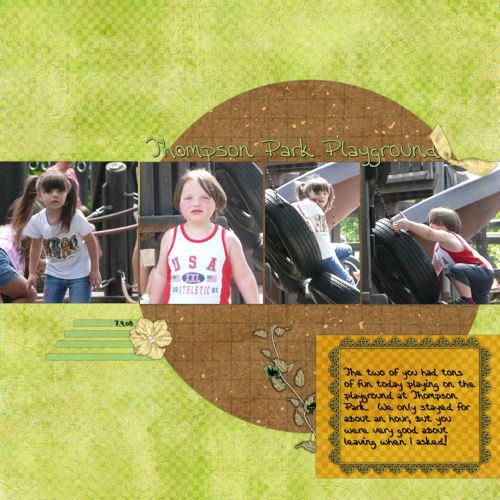 Credits:
Papers from the Fiesta Favors Kit by Ladybug Graphix of Digital Scrap Garden.
Elements from the Emerald Fantasy Kit by Ladybug Graphix of Digital Scrap Garden.
Template by me.
Photos by me.
Fonts: FG Dulce's Script
LO completes the July Inspiration Challenge at DSG.
------------
Gotta' run! I just spent most of that hour or so posting this! LOL
:)