And, this week's off to an auspicious beginning... Mike went off the road on the way in to work yesterday - not a huge deal especially as a good samaritan stopped and pulled him out.
BUT
, they managed to hook the brake line when they did, and by the time he got to work he'd lost about 90% of his brake fluid according to him. So Mom had to bring him home last night, and today he's got my van. I called the mechanic, and he'll try to do a rush job as soon as Mike gets it to him, but that probably won't be 'til after noon as Mike's now running his contract due to his boss being in training for the new contract. I'm guessing tomorrow we'll be carpooling. I have a dr appt at 9:10, and he has a meeting at 9.
I need to call the company that holds his student loans too 'cause his deferment got denied for one of two reasons - not really sure which because we received letters for both reasons -
TWICE
. I'd gotten the deferment income limit amount from one of their reps, and Mike qualified by about $50 so I'm not sure what the issue is. Oh - and it took me a month to get the info to them because they kept telling me to fax it, and then stated they didn't receive it...
But, moving on...
Friday night we went to a birthday party for one of Micaila's classmates. It was at the ice arena in Watertown. The kids had never been ice skating as we're
NOT
winter people, and I have weak ankles so that I can't even stand on the things. Both kids had no issue there. By the end of the evening they were walking on the skates as easy as they do their normal shoes! Brenden was just thrilled that he'd been "invited" - which wasn't technically true, but I wasn't going to burst his bubble. Olivia's mom made sure that he was included so that was that.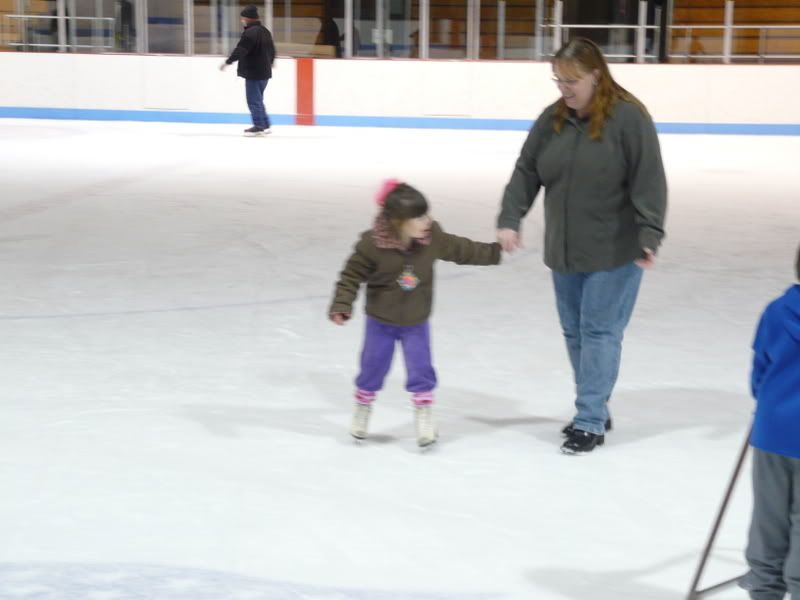 I managed to convince her to give one run without the "training wheels", but my hand was still needed. I'm out there in my boots btw. LOL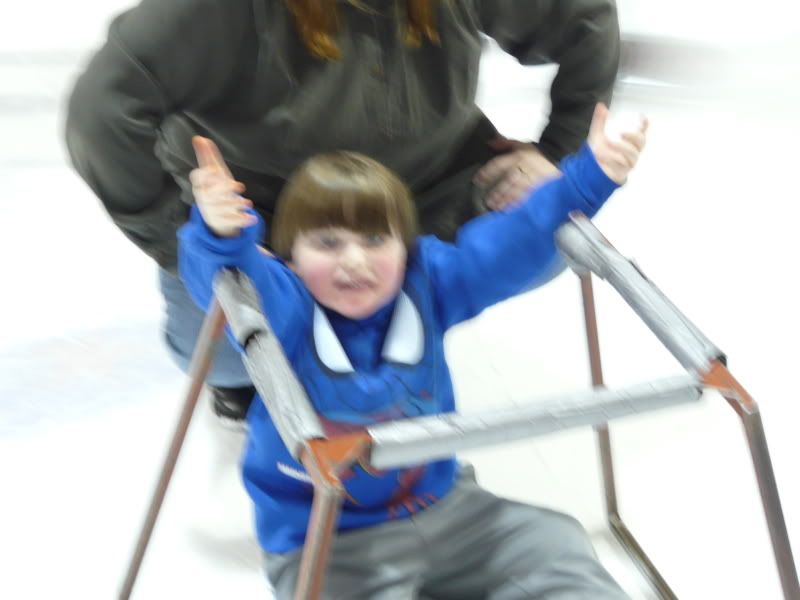 His problem wasn't that he fell - it was that he had a LOT of trouble getting up! LOL I have sore spots on both forearms from helping him.
On Saturday the kids and I went to Texas Roadhouse with Dad for his birthday. Other than the LO which I framed I didn't have anything to give him, and he said dinner there was all he wanted... I did rat him out to the waiter though!
(Micaila took this one.)
(Had to edit out a little boy who was walking by.)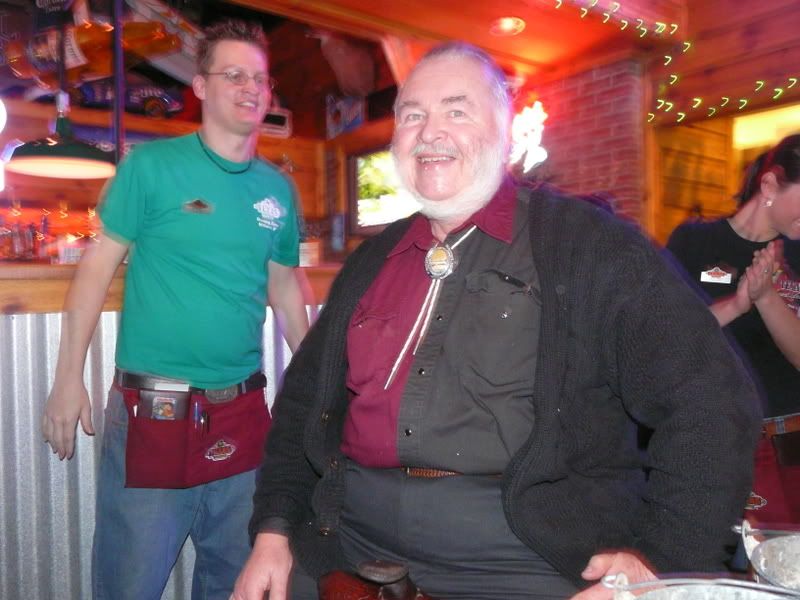 Dad with our waiter.
Yesterday we just hung out here. I meant to blog, but quite frankly - the longer I was upright the more I felt like I was going to hurl my cookies! Don't know what's up. I don't feel quite as bad today, but not good either - and it's weird - the longer I'm awake the better I feel. I told Dad this morning that if I didn't know better I'd think I hadn't taken my Zyrtec in a week. Friday morning I woke up with a
NASTY
headache. I took some acetimenophin when I got to work, but even after the headache let up the sinus pressure continued. Saturday wasn't too bad. Yesterday it was the sinus pressure, the sneezing, the headache, the naseua, and dizziness. All of which kept vying for the top spot in p.i.t.a.-land, and continued until dinner. Today I've got all of it again but in a less violent form - it's just enough to bug me, but not keep me down. It would almost be easier if I could just say I'm sick and be done...
I realized yesterday I'd forgotten to do the Question of the Week last Sunday... Here's the one for this week:
What things, people, or activities give you peace of mind and restore you?
I'm gonna answer this short and simple - Scrapping, reading, snuggle time with the kids. I don't think a large windfall of money would hurt, but I'm not waiting for that to happen...
I've got one LO and 5 pages from a badge album to share today, and then I'm off to get some stuff done...
Title: That Grin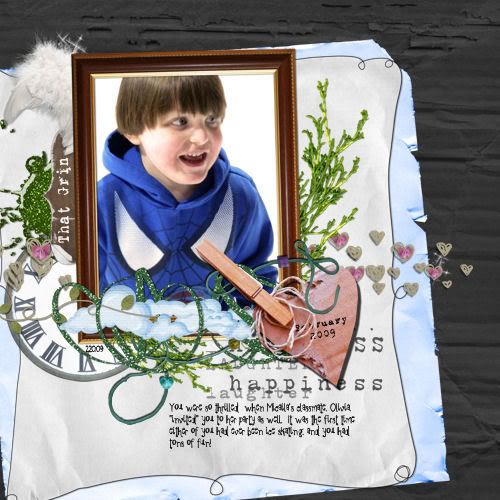 Credits:
Black paper, light blue paper, and glitter/glue splotches from the Farbkleckse Paper Pack by JanaM Designs available at The DigiChick.
White paper and other elements from the With My Eyes Kit by JanaM Designs available at The DigiChick.
Photo by me.
Fonts: 1942 report; 2Peas Goofball; Hammerkeys
LO completes the Feb 1st Lifts With A Twist Challenge.
_____________________________
Badge album for Jaylin: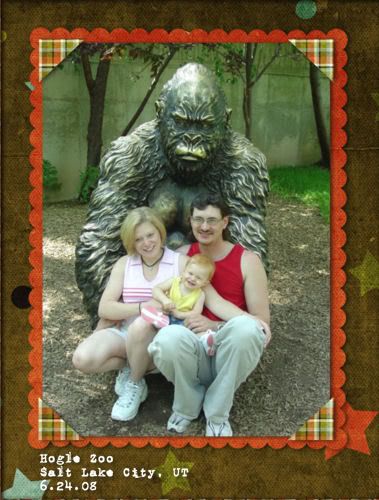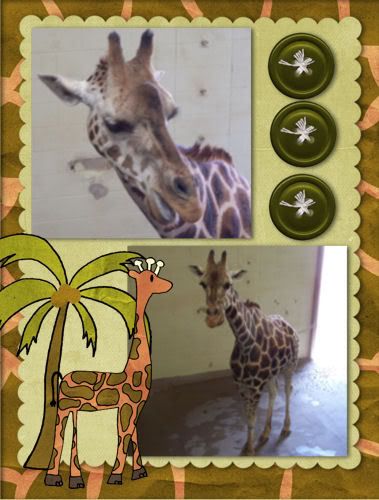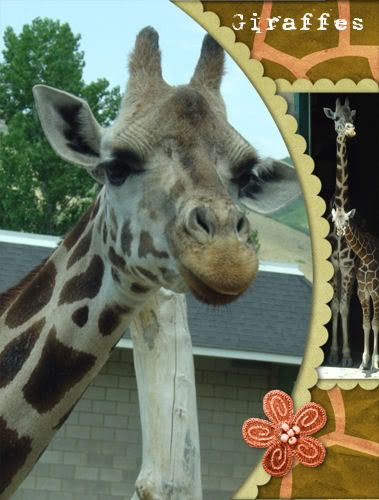 Credits:
Papers and elements from the Super Safari Kit by Connie Prince, DigiDiva Designs.
Template from Badge Album Set 2 Templates by Jill D-Zines.
Photos by my dad.
Fonts: 1942 report
I'll have at least 5 more pages for this before I'm done. I'd like to wrap it up today, but we'll see how the day goes! LOL
Thanks for stopping by, and have a great day!
:)