Not a whole lot to say today. I've got a bad head cold goin' on so I've been slacking. I actually got some sleep last night though - thanks to Tylenol Cold Multi-Symptom! LOL I tried NyQuil the night before and was wide awake an hour later...
Anyway - I've got two LOs to share, and some CT news from Julie...
Title: One Fine Day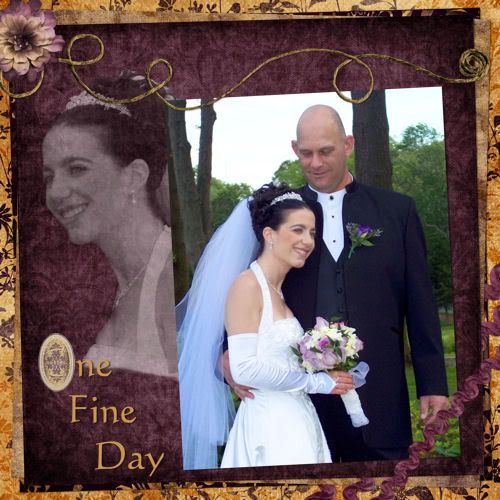 Credits:
Papers and elements from the Crushed Plums Addon Kit by Kiki Halbert Designs available at Plain Digital Wrapper.
Photo by me.
Fonts: Calligraph421 BT
___________________________
Title: Cowboy Love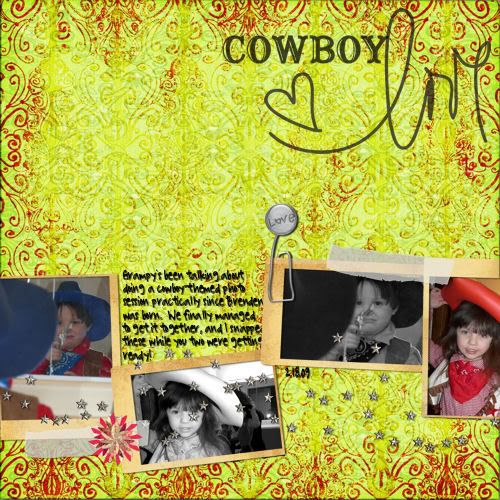 Credits:
Frame cluster and love clip from the Love Me Tender Kit by Royanna Fritschmann, Studio Ra.
Background from the A Papered Life 02 - Bo Ho Chic Diva by Royanna Fritschmann, Studio Ra.
Word art from the Love Words Set by Royanna Fritschmann, Studio Ra.
Petals and stitches from the Petals O Plenty Set by Royanna Fritschmann, Studio Ra.
Photos by me.
Fonts: Captain Howdy; Bryony
___________________________
And then there's
Julie's news
...
She's been accepted to the Quickutz Sillouette Design Team!!! I'm super-happy for her,... and a little saddened. She's been a friend since long before my (or her) digiland foray, and now she's returning to her paper roots. I'm so glad she's gotten this awesome opportunity as she truly loves paper scrapping! Unfortunately it means she won't have enough time to continue designing for digital scrapping. I'll pass along info on her retirement sale as soon as it becomes available.
CONGRATS, Julie!!!
:)