So I went to a paper scrapping crop Friday night. Just a small one at the LSS that they hold every other Friday. It ended up just being me and the two owners for the night because one woman who'd signed up was sick and called, and the other didn't show. That's ok. It made for a fun night with plenty of room for the 3 of us to spread our *stuff* out!

I finally finished Kol's album. Of course when I bought the kit on clearance I thought it was a 12x12 album based on the box, and didn't actually read it... I'd ordered about 100 prints from the Bristol race he and our cousin, Tam, went to last year to put into the album. When I went to put it together it was 6x6! LOL Again - that's ok. A

LOT

of the photos were repetitious, but then it's NASCAR - how many

DIFFERENT

photos can you take?! What really baffled me is that he's a HUGE Jimmy Johnson fan - has been for years. But, the only photo of Jimmy's stuff in the set was a shot of the trailer outside the track... So I have a 48 album with 48 elements/paper... and no 48!! LOL I left space everywhere for him or Tam to journal about the day 'cause I have no clue what went on.

Here's a couple of the pages...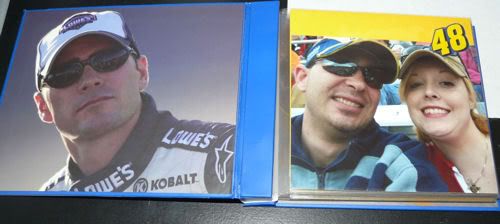 The inside cover and Kol with Tam...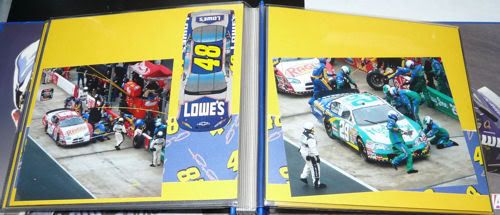 Pit stops I believe...

I also completed 11-4x6 layouts for a photo album book. The problem with creating scrapbooks from photo albums is that album pages are only designed to hold something slightly thicker than a photo. This particular album is suuposed to hold 52 photos, but when you add the slightly thicker layout to it I'm going to need to cut half the pages from the album so it will close. Here's a few of those...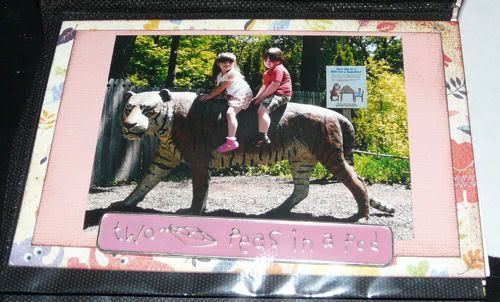 I also completed a VERY simplistic 12x12 for a sketch challenge at the store. I doubt it will win 'cause I'm really out of practice with my paper scrapping... LOL You can see it here though if you want. I think you'll recognize the subject. It's a LO about his propensity to grab Momma's camera...

Moving on to digital scrapping I managed to finish this LO after work on Saturday...



Title: Morning Meal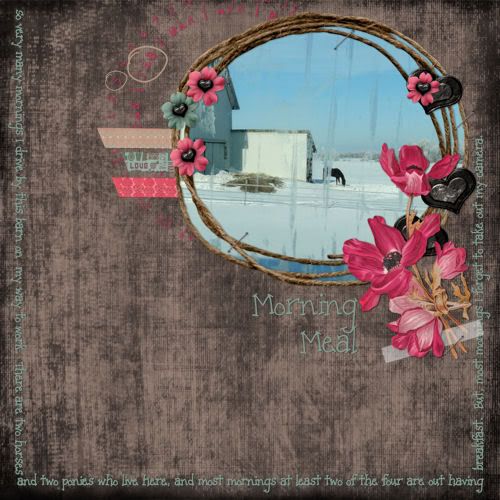 Credits:


Paper, frame, staple, tape, flower cluster, and ribbons from the Wrought With Love Kit by Tracy King of Urban Dragon Digital Art.
Date circles and markers from the Project 365 Embellishments, Part 2 by Nicole Seitler of Sugarplum Paperie. (recolored)
Photo by me.
Fonts: Patient Paige

It was originally supposed to be for a challenge Tracy hosts over at SBE, but I kind of used the wrong kit! LOL The challenge requires products entirely from SBE, but since I was 3/4 done when I realized my mistake I just used what I had. My favorite elements is date elements so she's working on a pack for me, but this kit is sold from ScrapDish instead of SBE anyway. Sometimes I am so blond! LOL


_________________________________



I completed 4 more LO yesterday..



Title: Project365 - Week 6






Credits:


Background, brackets, Sticker, flowers and border from the Hodge Podge #3 set by Gina Marie Huff of Weeds & Wildflowers.
Photos by me.
Fonts: Phont Phreak's Handwriting


_________________________________





Title: Project365 - Week 6






Credits:


Day stickers, "7" sticker, and layered tag from the Life 365 BIY Monthly Summary by Gina Marie Huff of Weeds & Wildflowers.
Brackets, border, and flowers from the Hodge Podge #3 set by Gina Marie Huff of Weeds & Wildflowers.
WA from the Life Wildflowers Wordart Freebie by Gina Marie Huff, Heidi Williams, & Patricia Christensen of Weeds & Wildflowers.
Background from the Always My Heart Add-on by Carjazi Scraps.
Photos by me.
Fonts: PIG; Prissy Frat Boy

I needed to catch up my P365! W&W has a gig going where if you use at least 75% their product, and are up-to-date every 2 weeks Gina gives a pack of goodies to you! Works to keep me motivated! LOL


_________________________________





Title: Live Creatively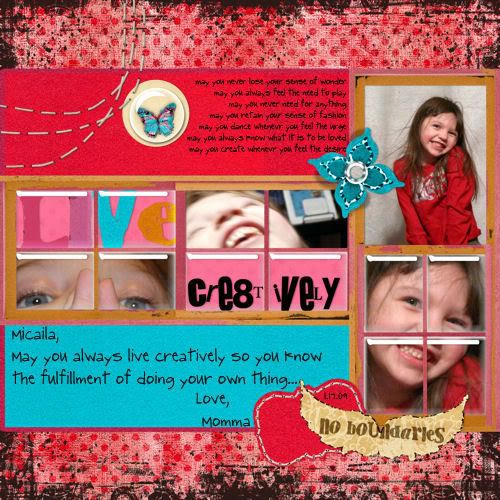 Credits:


Papers and elements from the Creative Chaos Kit by Royanna Fritschmann, Studio Ra.
Photos by me
Fonts: Samantha


_________________________________





Title: A Sister's Love






Credits:


Pin from the Don't Pin Me Down Pack by Royanna Fritschmann, Studio Ra.
Paper and all other elements by Royanna Fritschmann, Studio Ra, from the So Divinely In Love Collab.
Photo by ?. (Faces blurred out for privacy - page was created for friends.)
Fonts: Jane Austen

Friends from high school just had their second daughter sometime within the last week or so. I don't have a specific date yet. I created this using a photo posted by them on Facebook.


_________________________________



Then I finished 1 more so far this morning using Wenchie-Poo's newest kit Saucy...



Title: Saucy Wenches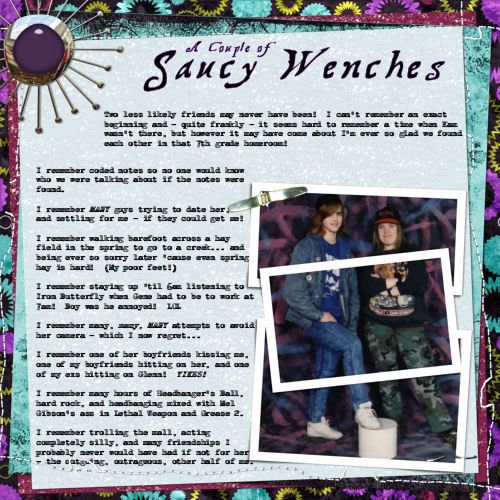 Credits:


Papers and elements from the Saucy Kit by Designs by Kristine.
Photo by ?.
Fonts: Teasure Map Deadhand; Vintage Typewriter

You can find that kit here.


_________________________________



Well, I've got some bills to pay, lunch to make, garbage to gather, and about 6 more CT LOs to complete so I'm running away again! Thanks for stopping by, and have a great day!

:)