So I finally asked Dad for some help with the title on that LO 'cause it just wasn't speaking to me... He came up with Fall Fool, but said I should send Kristine a version titled Autumn Ass!! LOL
Title: Fall Fool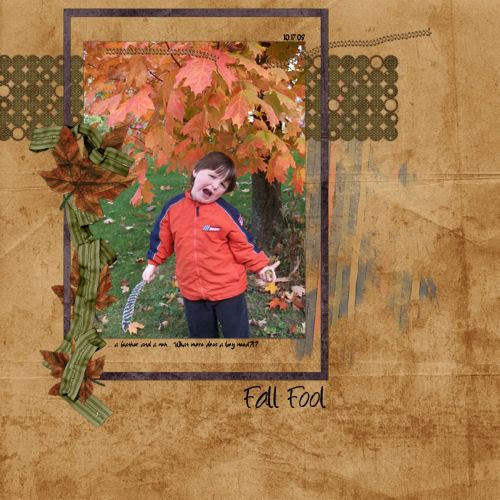 Credits:
Papers and elements from the Allie's Moose Kit by Tracy King of Urban Dragon Designs.
Photo by my dad.
Fonts: Angelina
___________________________
I also created my first 2 LOs for P365 yesterday...
Title: Project365 - Week 1
Credits:
Background, corner doodle, and lined paper from the Memories in Black & White Kit by Vera Lim.
Ribbon from the December Sampler by Vera Lim.
Arrow, date line, and circles cutout from the Project 365 Embellishment Pack by Sugarplum Paperie.
Photo by me.
Fonts: assign; Avant que
___________________________
Title: Project365 - Week 2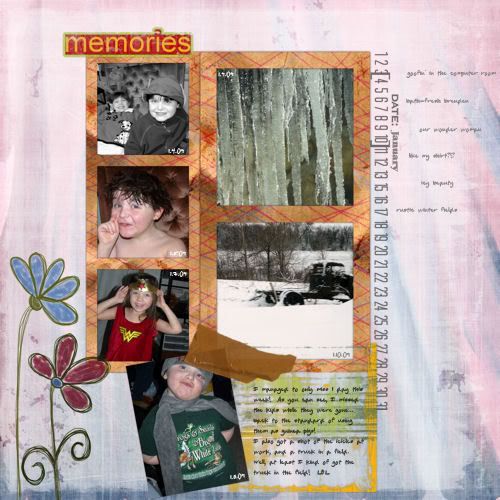 Credits:
Background, frames, flowers, and tape from the Isabel Kit by lauraskathi.
Memories rub-on and Painted transparency from the Gabs Kit by lauraskathi.
Dateline and selector from the Project 365 Embellishment Pack by Sugarplum Paperie.
Photos by me.
Fonts: Bambi Bold; FG Cheryl
___________________________
Dad found out while dropping Micaila off this morning that another of her classmates is leaving sometime within the next week. His dad's being deployed for a year, and since he just got a baby sister for Xmas mom is going home during the deployment to be near family. It makes me a little sad this time 'cause it's one of the boys who'd played with Brenden a few times when we were together for events. (Not that he isn't friendly with Micaila too...) Half-way through the year, and I believe she's lost 3-5 classmates and added 6-8... It's kind of like a turnstile. I need to get a list for her birthday invitations.
Brenden's feeling well enough that he's fighting about having to finish his antibiotics. Which reminds me - I really need to try to remember to check his ears. IF I can pry him away from Lego Batman on the PS2...
Yesterday we watched The Golden Compass. It was good... odd, but good. The kids weren't really into it though. I think they were a little young to follow the storyline. Kind of like Wall-E. We watched that a week or so ago, and while I think the moral is a good one I have to wonder about a movie where more than half of the dialogue is nothing more than "waaaaaaal-eeeeee".
If you didn't stop by yesterday I have my P365 blog up and running. The link is posted to the right...
I also have 50% off my Snowy PaperPack at DSG and 34% off all PU templates at WenchdGrafix through Jan 31st. Don't forget to grab'em while they're on sale! :)
I think that's it, and I need to go eat lunch! Thanks for stopping by, and have a great day!
:)