Love love songs? We've got one for ya'!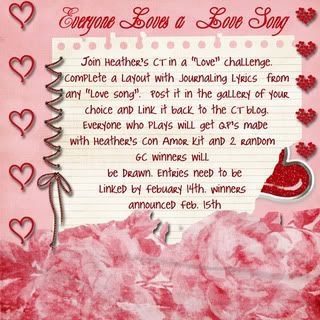 Click
here
for more info!
--------------
Here's mine: She's Got Eyes
Credits:
Papers from the Royal Tapestry Paper Pack by Kiki Halbert.
Frames from the Crack Me Up and Wrapped Tight Frame Packs by Kiki Halbert.
Doodle from the Paper Swirls Freebie by Princess Lala.
Photo by me.
Fonts: CK Heritage
I (obviously) didn't use Heather's stuff for this challenge, but Kiki's was calling to me! I'll be playing more this weekend after work!
Thanks for stopping by, and have a great day!