Guess what?!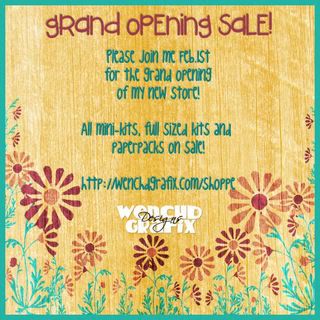 Kristine has opened her own store!!! And, has 6 new kits/mini kits!!! You saw parts of Commandos Colors in my Summer Days and Storm's A Blowin' LOs, and you'll be seeing more new kits in the next few weeks via my LOs! Also checkout
Kari's
,
Nikki's
,
Mojo's
,
Shannon's
, and (last, but not least!)
Kat's
blogs as they are also CT members for Kristine!
And, there's more!! We've all been authorized to hand out some RAKs! So much fun when the designer's let us do this! :D My RAKs are going to be randomly drawn from posters in my Happy Place thread at DST. To be eligible just go
here
, and post before 6pm EST today!
------------------------
I also
GOT
RAK'd last night
AND
this morning! Andrea sent me her new kit, Patty's Warm Hug, and Kiki Halbert sent me links for her new Grab Bag available at PDW starting today! It's packed so be sure to check it out!
I didn't make Flergs's CT... Of course, with approx 170 entries it isn't a HUGE shock! LOL Her new store opens today at Scrapbook Graphics, and she has her CT announcement up on her blog now. The winner, and four luck Guests for February. I'll just cross my fingers that I get asked to guest sometime in the next few months! :)
-------------------------
Well, the final counts for Jan came up like this:
4 - 8x8 paper pages for CJs
2 - 12x12 digi QPs for 1-time gig
37 - 12x12 digital pages
41 pages completed for the month
31 Challenges completed (I think I just pooped out for the last week! LOL)
I don't have a new LO this morning, because I spent most of my time last night and this morning downloading!!! All the new kits from Kristine, all the challenge goodies from DSO, a bunch of stuff from Atomic Cupcake ('cause I don't want to miss any of it!!), the RAK from Andrea, and the RAK from Kiki!
-------------------------
Gotta' go... They're predicting 6-10 inches in two parts today along with the possibility of high winds and freezing rain again. Most of the schools in the area have closed, but we need to get my car before work so Dad is driving me out with the kids to pick it up, and then coming straight home again. Turns out the altenator issue was due to some wires that had corroded and shorted out the alt. Of course, the wires were exposed because my plastic liner for the wheel well had torn off about 5 years ago, and our friend/mechanic at the time told me it wasn't a necessary part so it got tossed... Turns out that it keeps the water/salt/dirt from getting into this wiring.
Friendly warning!!
Thanks for stopping by, and have a great day!