Boss went to lunch so I can post this quick... I'm sick. Yup - I finally caught whatever the kids were dealing with. I'd really like to be in bed right now, but I don't get paid time off 'til I've been here 12 months, and that isn't 'til March 15th. So, I'm hoping to hold off the worst of it 'til Sunday when maybe I can get a really LONG nap while Dad's at the house...
You know I been feeling like a slug, and mentally beating myself up (a very little bit) because I hadn't gotten any LOs done in 3 days... AT HOME!! I've created 14 papers, 13 pages, and 2 more templates (would be 15 pages if I was working faster today) at work. No wonder I have nothing left when I get home! LOL These pages are very, VERY simple though - just photos and papers and a quote on most. I think this is harder for me then when I have embellies...
But, I did get another My Fives LO done this morning before I ran out the door...
Title: 5 Things in My Purse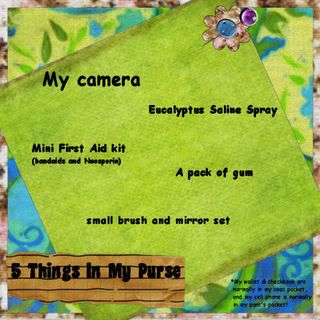 Credits:
Papers and elements from the Patty's Warm Hug kit by Boyerville Scraps available at DSO.
Fonts: Coaster; Comic Sans
I can't think of what else I might have to say 'cause my head's fuzzy.
Thanks for stopping by, and try to have a great day!