Did you all have fun joining the Treasure Hunt?! If not you missed out on some great goodies! Of the 45 or so designers who participated I only knew or worked with the designs of 6 of them previously! There were some hiccups, but honestly with the size of the digi world I wasn't surprised... Some of the sites had trouble with bandwidth 'cause - jeez, let's think about this - hundreds of people were trying to access them at the same time! LOL
---------------------
Friday afternoon I called the mechanic who's had the car... He'd tried switching out several parts he had on hand to see if they could get it going, but it will only fire on 2 cylinders - period, end of story. He's only put a little over an hr into it, but electronics are not his specialty. At this point it boils down to: the additional cost of replacing the computer to see if that fixes the issue... the additional cost of several hours of chasing wires to see if they can find further corrosion causing the issue... or, calling it quits. I think we're just going to try to sell the car for parts, and find something else to at least keep me going 'til better weather when there is a little more $$ coming in. It makes me sick when I think about how much we invested into the damn thing in the last 2 months...
---------------------
I didn't get any LOs done Friday night or Saturday afternoon due to the hunt. I also didn't manage to stay up for the ADSR Kickoff chat because Brenden refused to go to sleep until I did, and he was acting like a hooligan. They do have the first ADSR challenge posted though, and I have a pretty good idea what I'm going to do for it.
Saturday, Brenden started asking for Wendy's at 7:30am when he woke up! LOL So after work we headed there for lunch, and ran into my sister and her family. We ended up nabbing Krys for the night. While Mike was on the pc yesterday she and I went through my remaining "My Fives" list so I have the majority of the lists completed - just need to do the LOs... Not sure if my CT designers will be happy to have so many LOs from these challenges though! LOL
---------------------
I did finish these yesterday...
Title: Two Hearts
Credits:
Papers and elements from The Luv Bug kit by Kristmess available at Gotta Pixel.
Photos by ? (These are my husband's aunt and uncle, and the wedding was before I joined the family.)
Fonts: CK Limerick
________________________
Title: 5 Reasons I Love the Rain
Credits:
Papers from the Sethro Tull kit by Rachel Martin available at Pickelberrypop.
Elements from the Little Man Ike kit by Rachel Martin available at Pickelberrypop.
Fonts: CK Limerick
________________________
And, I did this this morning for the T2T LO contest at DST. I spent well over 2 hrs on this LO this morning - which I
NEVER
do with digi. Hope it was worth the effort.
Title: Define Me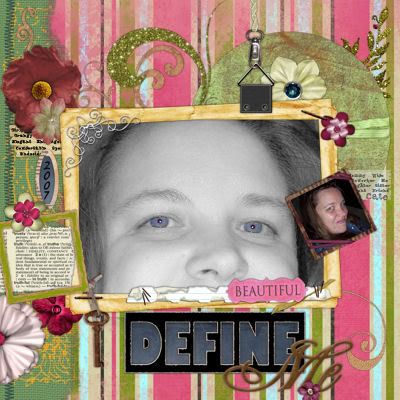 Credits:
Striped paper from the Ready 4 Spring mini kit by Betsy Tuma.
Green corner cluster and beaded wire flower from the Avant Garden mini kit by Digital Scrapbook Artisan Guild.
Tattered frame cluster, rusted key, and golden swirl from the Trash to Treasure kit by BrokenJar Creations.
Green & yellow floral paper from the Trash2Treasure kit by Acorn Designs.
Black photo hinge from the Simply Love mini kit by Beth Kern aka Dragonfly Scrapper Designs.
Flowers from the Treasure Hunt Freebie kit by Blushbutter.
Green Floral Rust paper from the TTT Freebie by Christy Sturm.
Messy stitches and green kraft frame from the t to t gift by Kathy Moore Designs.
Wood plank sign (recolored) and mauve poppy from the Treasure Hunt Gift by Sharon Walden aka Nini's Notions.
White flower with blue gemstone from the It's A Bloom mini kit by Heather Manning Designs.
Transparent tape from the Trash to Treasure 1 kit by Hummie.
"Define", "Me", and torn definition fromthe Define Me kit by Joy Kuoha of Kuoha Designs Ink!.
Blue paper from the Spring-A-Ling Paper Pack by Kim Hill of CG Essentials.
Buckle ribbon from the Fun Set by lj crochet.
Green glitter swirl and canvas flowers from the Treasured kit by Lliella Designs.
Green gingham ribbon from the Treasure Hunt Gift 2 by Lynne Simmons.
Cardboard bookplate from the Raw Elements Cardboard Accents by Mad Scrapper.
Glitter leaves, raspberry flower w/gem center and ribboned frame from the Berry Ice kit by Liz of Sweet Digi Scraps.
Beautiful tag from the Selection Box kit by Ruby Rynne.
Kraft paper swirls from the Trash 2 Treasure Grab Bag by Sherrie Piegdon.
Folded flower from the Trash to Treasure kit by The Twisted Sisters.
Silver scrollwork corner from the Trash to Treasure Grab Bag by Tina Williams.
Photos by me.
Fonts: CK Limerick; CK Typist
---------------------
Called the school this morning to check on Kindergarten Round-up - the when and what. I've been told by some that kids
HAVE
to know/do certain things now before they're admitted to kindergarten so I wanted to be sure Micaila's ready... Well, it's the first Mon/Tues in June (2nd & 3rd), but they couldn't tell me exactly what they're tested on. She knows her alphabet and colors, can write her first name, can hop and balance on one foot, and count to ten. After ten she gets a little confused, but we're working on it. She also refuses to say yellow - everything is "amarillo" because she pronounces it lellow and doesn't like us working to correct that! LOL She doesn't tie her shoes because -well - I don't buy the kids shoes with laces! LOL Velcro is our friend.
---------------------
Not sure what else to say so I'm going to work on those 5's LOs! Thanks for stopping by, and have a great day!