So for those who were interested here is the paper spread Icompleted yesterday morning: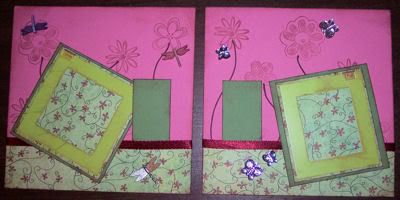 Credits:
Paper by BG - Pheobe line.
Cardstock by Bazzill.
Acrylic stamps by Autumn Leaves - Rhonna Farrer.
"Stems" made with brown Sharpie pen.
Green metal frames by Making Memories.
Word clips by Around the Block.
Ribbon by Bobbin Ribbon.
Dragonfly buttons, metal dragonfly, and butterfly jewels by unknown.
I inked the frames and the paper edges with brown ink.
-----------------
I have pictures from Micaila's cake and presents Tuesday night. She went around yesterday telling everyone, "Today's the
VERY
first day I'm
5
!" LOL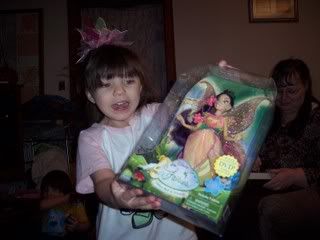 A fairy doll from Grandma. (She got 3 or 4 from Grandma!)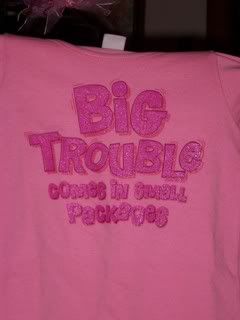 A t-shirt from Aunt Cindy & Uncle Kevin...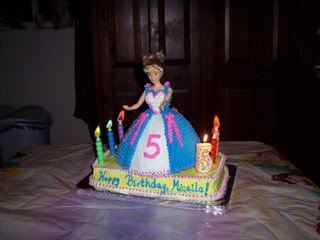 Her "Cinderella" cake.
Blowin' out the candles!
------------------------
And, from the drive in to work yesterday...
Don't know that those really show how nasty it was as I (obviously) had my hands full with driving during the worst parts...
Bill still has my car because... He got a used altenator, installed it, and...
EXACTLY
duplicated my issues from the morning drive! On an up note he now knows I wasn't exaggerating or crazy! So then he got a
NEW
altenator and installed it... now my headlights flux brighter and dimmer while the car idles. So he's now trying to track down a wiring issue...
--------------------
For those of you who don't know, and
MIGHT
be interested... Today is the last day you can purchase a 30-day subscription to
Atomic Cupcake
. They have actions for PS 7, CS, CS2 & CS3, and PSE 4 & 5 (6 with conversion). They also have kits for those who don't use PS or PSE. I've never gone there because I use PSP XI, but I got PSE 5 with my tablet and with all the raving I hear about their actions I don't want to miss out so I'm using the birthday money from my Mom and FIL to purchase the 30-day everything subscription for $29.95. That lets me download any kits/elements
AND
any actions currently available on their site as well as any new ones they post during the next 30 days... approx $700 of items! You can also get just the kits/elements for $15.95 or just the actions for $19.95. Starting tomorrow everything is individually priced... And, no - I have no affliliation with them...
--------------------
I've taken on another CT... Miracle's Momma Designs at ES! And, agreed to stay on with One Scrappy Mom full time! I'm getting anxious waiting for Meg's announcement tomorrow for her team... Hope I get at least a guest spot!
Oh! And, speaking of guest spots...
Diane
has decided to spread her wings, and has taken on a few of her own! Checkout her blog 'cause she's got a great contest going for one of them!
--------------------
I have no LO for you this morning, but I hope to have at least 1 tomorrow. I need to go do dishes and shower before work so I'm off!
Thanks for stopping by, and have a great day!