I remembered yesterday that LOs have to be in by today for Flergs' CT call... So I came home, and put mine together, and then caught up posting my LOs... I've gotta' say, I think I have a new fav LO! :)
Title: Love Unconditional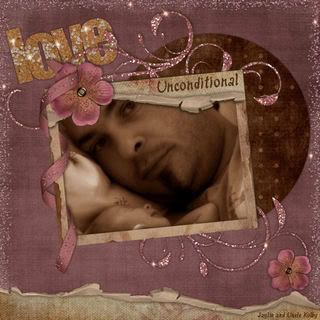 Credits:
Papers, alpha, and elements from the Strawberry Delight Mini Kit by Flergs.
Script run on photo: Soft Sepia by Heather Manning available at Purple Paper Flowers.
Photo by my brother, Blayne.
Fonts: CK Fable
__________________________
So I counted last night, and I have now completed 30 challenges for Jan!! (Still haven't managed to finish my last DSO one though!) I've also completed 31 pages and 2 QPs. I've been thinking I may join ADSR this year. Challenges shouldn't be an issue for me, right?!?! LOL
--------------
Diane gave me two awards which I'll have to pass on... That'll wait 'til tomorrow though.
--------------
I've been stalling because neither of my kids wants to draw a name!!! I tell ya', any other time they'd be fighting over who gets to do it!
And, the winner is....
Micaila finally decided she could pick....
thumper6423

!! Congrats!
Please email me at absolutartist1@gmail.com so I can send you the links!!
Thanks for stopping by, and have a great day!