Heather and I have teamed up to create The Dirty Girls Team! We'll be participating in the
ADSR
! You can click the link for more information.
Here's our blinkie if you want to root for us:
Thanks to Heather for the blinkie as I have
NO
idea how to create them! LOL
------------------------
I slacked again this weekend, but I have now completed 37 LOs and 2 QPs for the month... And, I finished my last DSO challenge! So 31 challenges completed for the month as well! I used some beach shots Diane sent me to do the Ad Challenge...
Title: Under the Boardwalk
Credits:
Paper from the Dirty Snow Paper Pack by Heather Manning Designs available at Purple Paper Flowers.
Photos by Diane Meseroll.
Fonts: CK Jolly Elf; CK Greeting Card; CK Legacy
__________________________________
Title: Arr Me Hearties!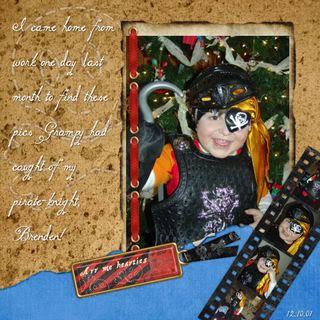 Credits:
Papers and elements from the Buccaneers kit by Kristmess available at Gotta Pixel.
Photos by my dad.
Fonts: CK Pirates Hand
------------------------
I have a blog thing for ya'!
Your Pirate Name Is...
Iron Fanny La Bouche
------------------------
We're taking Micaila to Denny's for lunch today as I won't be able to do much with her on her birthday so I need to go finish getting ready to go! I've been awake since 4:45am, and up since 5:30... I managed to get quite a bit of cleaning/straighteneing done, the garbage to the curb, and the old pc reformatted so the kids can use it!
Thanks for stopping by, and have a great day!