That's right... I'm Kristine's newest Wench! Whoo-Hoo! I am so glad my mojo decided to come home for January so I could accept all of these great opportunities! The guest spot I talked about the other day is Jan & Feb for Kristmess who sells at Gotta Pixel and The Scrapping Garden. I've done a lot of guest spots for designers at GP! LOL
------------------
We had no power for about 3 or 4 hrs last night. No idea why... The weather was fine, but sometime after we went to bed at 9:30pm and before 1am we lost power. It came back on at about 4:30am. Other than being a little chilly no harm done.
-----------------
I only got 1 LO done last night even though I got home early. We had to close the office an hour eary due to cleaning the carpets. The first LO was for Heather, and I had it about 80% done when I clicked too fast and crashed PSP - again... I was too annoyed to go back to it. I figure I'll do it this afternoon or tomorrow. So, this is not truly a CT LO, but it is using a bunch of Kristine's freebies!
-----------------
Title: Such A Tween!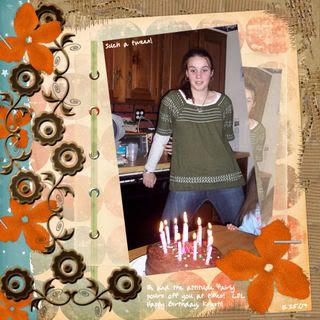 Credits:
Cardboard from Cardboard Overlays by Windgefluester available at SBB.
Papers, vellum w/eyelets, and metal flowers from the Spiced Toffee Blog Freebies by Kristine of WenchdGrafix.
Fabric flower, stitched ribbon, and staple from the Holly Berry Blog Freebies by Kristine of WenchdGrafix. (Flower re-colored.)
Photo by me.
Fonts: FG Cheryl
(This is my 13-yr-old niece who's birthday is Christmas...)
------------------
Gotta' run!
Thanks for stopping by, and have a great day!