So I'm officially 33... Not so old, but with the way things have been going at home lately it feels it. I've been slacking again this weekend 'cause I just haven't felt much like scrapping. I know -not me... I did wake up to an Inbox with about 10 site emails wishing me a Happy Birthday, another 1 which included a % off coupon, another 1 with a free kit coupon, and the DST goodie email! I've spent the better part of 2 hours getting goodies with my amount off or free coupons! The % coupons will have to wait 'til after taxes come back when MAYBE I'll have some scrapbook money to spend... I won't drag you through all the previews of my goodies here though 'cause it would probably take up the whole page! While in those stores I also grabbed free samplers if I didn't have them, and probably doubled my Kaboodle!!! LOL
I also got an email from Kristine this morning wishing me Happy Birthday! Thanks so much, hon!
------------------------
I have 2 LOs from yesterday...
Title: Not Your Typical Birthday Cake
Credits:
Papers and elements from the Birthday Boy kit by Julie Kelley Designs available at Scrapbook Elements.
Photo by me.
Fonts: Pristina; Porcelain (MisprintedType.com)
_______________________________
Title: Serenity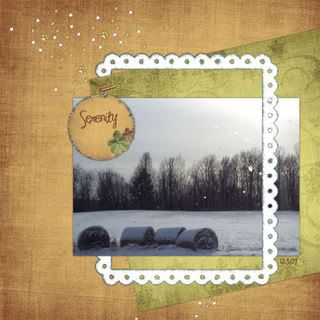 Credits:
Papers and elements from the Winter Rainbow kit by Marianne Wahlberg available at datascrapping.no
Copper staple from the Metal Lovers pack by One Scrappy Mom.
Photos by me.
Fonts: MA Sexy
------------------------
Well, I've dried 1 load of laundry, washed 1 load of laundry, put away the clean dishes, got the garbage out the door (only to remember it won't be picked up 'til tomorrow due to the holiday), done the aforementioned "shopping", and gotten the kids breakfast. Now I need to go get dressed so we can leave as Dad is here.
We're off to Ponderosa and some small errands!
Thanks for stopping by, and have a great day!