Personally I believe we got about 8-12 inches yesterday at my house, but the official number is 6 inches. Of course that is recorded at an airport about 20 miles from my house... The weather forecast states we should have 0% chance of snow through Sunday... I'm not holding my breath though.
--------------
I managed to complete two LOs yesterday. I had hoped to get much more done, but instead of scrapping I ended up devoting more time to mundane things like two loads of dishes, two loads of laundry, marshalling movies and fights between the kids, and 3-20 minute snow shoveling sessions... that's before dinner at which point I was ready for a shower and bed! We watched Fantastic Four: Rise of the Silver Surfer during/after dinner. I missed the majority of the middle due to my stomach not being happy that I hadn't eaten much earlier in the day, but what I saw was pretty darn good! It kept Mike awake, and he wasn't feeling well either.
--------------
Title: C Is For...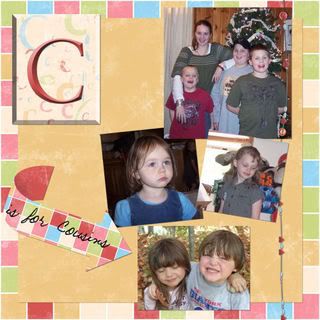 Credits:
Papers and elements from the All About The Alphabet Kit by Christina Wall Designs available at Gotta Pixel.
Fonts: FG Cathie's Hand
_________________________
Title: So Expressive
Credits:
Papers and elements from the Rustic Love kit by One Scrappy Mom available at Elemental-Scraps. (Journal box was altered by removing the lines to create a frame.)
Fonts: Brankovic (Dafont.com)
LO completes the Jan 2008 Font/Frame/Foto Challenge at DSG.
------------------
I completed my list of January Challenges as best I could yesterday, but some weren't uploaded as it was the 1st of January. So, I will be attempting somewhere between 27 & 32 challenges depending on what gets posted that was missing! 1 down...
Gotta' run before the boss gets back from lunch!
Thanks for stopping by, and have a great day!