Do you doodle?? LOL Honestly, do you use doodles? If so, do you make your own or only use others' doodle designs? If you make your own - do you doodle on paper and scan or do you create them electronically with a pen or mouse and a graphics program?
----------------------
I love doodles. I've tried my hand at creating them electronically, but since I only have a mouse at home they end up looking a little odd. I have used some of them though! :) I also use a
LOT
of doodles from designers. I haven't actually tried the paper and scan method yet, but I'm strongly thinking about it!
----------------------
So after yesterday I have to wonder... Where did everybody go?? Diane's on vacation, but I see she did stop by later on last night. (Thanks, hon!!) Everyone else seemed to disappear yesterday... I was SOOO lonely in digi-world! The person below me on DST's Blog Train edited her post to say that she'd tried to post to several blogs, but they didn't allow anon comments... not that she posts anon...
WHATEVER!!!
If you don't post anon then
WHY
was it a problem??? I realize Blogger won't let you post a comment if you don't have a gmail account - not that it takes long to set one up.
BUT
, I've also had a couple of ladies who couldn't post for that very reason send me a PM at DST to let me know they HAD visited the blog.
But, enough of that...
----------------------
I had 2 more CT kits come through last night, and am waiting on the papers for 2 more which I should be getting tonight due to some technical difficulties. I also sat down yesterday and catalogued the actual challenges I need/want to complete for Nov... 1 for Little Dreamer Blog, 10 for DSO (3 of my regular challenges have been retired due to designers moving on or being on hiatus), 2 for Andrea at JFTSOI (I'll need to register there as well! LOL), and 6 at DSG.
If
Ican manage to complete all of those it will be 21 challenges completed for the month -don't hold your breath though!! LOL
1 of the Challenges for DSO is completed with a LO I did earlier this week, and I finished a LO for the Quote Challenge this morning usingPamela's Fal Kit.
Title: Don't Cry Because...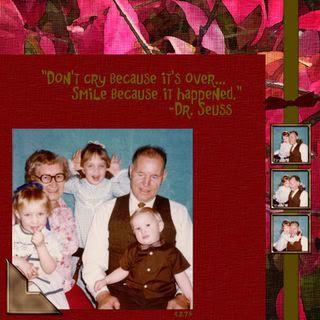 Credits:
Papers and elements from the Fall Kit by Pamela of Digitreats available at Stone Accents Studio.
Photos by my dad.
Fonts: Marker Monkey (FontDiner.com)
LO completes the Nov Quote Challenge at DSO. The quote seemed to work for this as I was extremely close to my Grampy.
--------------------
Thanks for stopping by, and have a great day!