Does anyone else have this issue? Everyone seems to think they need to be on Mommy... Micaila came down to cuddle between/on my feet at about 6am. By 6:30 or so Brenden had woken up upset about something, and decided he had to sleep on Mommy... Then the cat joined the fray at about 7... Brenden finally woke up about 8:20 so I could get up! In the meantime I gave the cheek I could reach plenty of kisses 'cause he tends to resist them most of the time if he's awake! LOL
So I got nothing done this morning... no dishes... no laundry... no LOs... no freebie for Saturday... no circle journal... I did get plenty of cuddle time though! I also watched CSI Miami and CSI NY while waiting for kiddos to wake up and move.
---------------------
I've switched up my CT duties again a little... I've left Cyndi's CT due to some technical difficulties, and have joined Kara Jones' personal CT! Next week I have 2 December Guest Spots that will added to my set - Heather Manning & Penny's Miscellany, and I'm continuing on Connie's CT as a Guest for the month of December as well! Tons to do! :D
---------------------
Here are pics from the drive home Tuesday...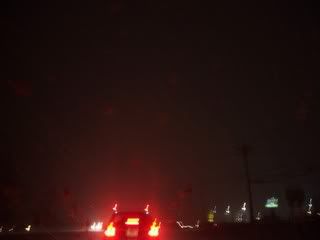 -------------
It's supposed to start snowing sometime this afternoon, and not stop until sometime tomorrow with "siginificant" accumulation... YUCK!
I need to start my DSO Ad Challenge LO, and throw a load of laundry in the washer on my way out the door so I'm off!
Thanks for stopping by, and have a great day!