Things just haven't been clicking for me this week. I'm not feeling as creative as normal, andthere is some non-sense going on personally that isn't helping. I feel bad, but I don't have a freebie for you this week. I've pretty much used up my stash, and haven't felt up to creating anything new this past week or two...
---------------------
I have 1 LO to share this morning that I created last night. I started another this morning, but don't have time to finish it before work...
Title: Sunday Slidin'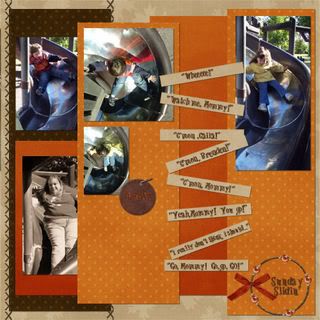 Credits:
Papers and elements from the Summer's Sunset kit by Michelle Pieters available at Gotta Pixel.
Template 4 by Pamela of Digitreats.
Photos by me and my dad.
Fonts: Jungle Juice
------------------------------
Gotta' run now! Thanks for stopping by, and have a great day!