So, we gained an hour... Of course, I managed to fall alseep at about 6pm last night, and other than the 2 hours in the middle of the night that I was awake - not get up 'til 8am (new time) when Brenden came downstairs & demanded I wake up...
-----------------------
This morning I finished the page for DigiDiva's CT that I started yesterday...
Title: Backyard Farmer Pumpkin Farm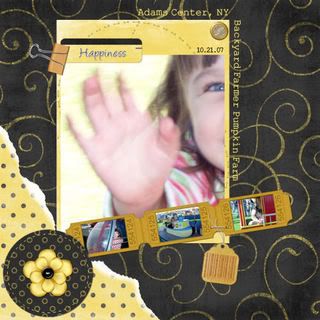 Credits:
Papers, circle stitching, flower, sticker, stitched mat, and staple from the Color Revolution - Yummy Yellow Kit by Connie Prince of DigiDiva Designs available at Divine Digital.
Ticket frames, fancy brad, and Priceless tag from the Wonderful World Kit by Connie Prince of DigiDiva Designs available at Divine Digital.
Photos by me and my dad.
Fonts: Escape Typewriter
___________________________
And, this for the SBB NDSD QP Exchange Challenge:
-------------------------
I've also got 1 load of laundry washed (now drying), dishes done, garbage together & outside, all of the NDSD goodies I downloaded at work yesterday copied onto my EHD, and a batch of zero-point vegetable soup in the crockpot for tomorrow. While I was cutting/cleaning veggies for the soup I cleaned all of the carrots, broccoli, and green peppers so the kids have some healthy snacks for the rest of the week. My kids LOVE broccoli -cooked or raw; breakfast, lunch, or dinner...
I still need to complete Diane's Lyric Challenge at OAKS and add 4 new galleries to my link list. Not that I'll be uploading to them all regularly, but it also helps me keep track of what sites I'm registered at! LOL (BTW - I had to register at OAKS and SBB to complete these challenges! :P ) And, none of my daily downloads were up for today yet when I checked this morning... So, I'm off to get some more LOs done! :)
Thanks for stopping by, and have a great day!