I'm posting late today, but that's because I don't have much to say, and am being fairly lazy again! LOL
I've put the soup away, watched Criminal Minds and CSI NY while dying my hair, and sorted through
ALMOST
all of the kids' clothes. That's it so far. Well, beyond the LO I just created! I have 1 35 gal tote overflowing with the clothes they have outgrown... and another 35 gal tote 3/4 full of clothes that
MAY
fit next summer...
Dad made us a hash brown/omlet concoction for breakfast that was good, and now he's workin' on the rest. I really don't even know what all he's got planned - I just stay out of his way! It smells good though...
My sister, Nora, called last night to ask about her family coming over. They had their big dinner last Saturday so she was going to make stuffed chicken breasts to bring over. (She's got four kids so it would have meant the meal for 2-3 Dad was planning would have had to feed 8-9...) Then she called this morning to say that unless the weather changed she wasn't going to make it. We've had a mix of snow and freezing rain going on for over 2 hours now... the plow/sander just went through...
Mom decided she doesn't want to come over... so she's home alone watching a Price Is Right marathon...
I still need to finish sorting the clothes, get laundry put away, catalogue and wrap Xmas gifts, and I'm hoping to get 2-3 more LOs done. Wish me luck!
----------------
Title: Micaila's Beautiful Hairclip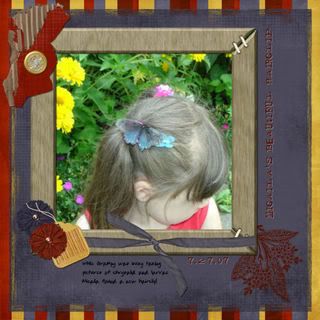 Credits:
Papers and elements from the Wonderful World Kit by Connie Prince of DigiDiva Designs available at Gotta Pixel.
Photo by my dad.
Fonts: Facelift; FG Cheryl
--------------------------
Thanks for stopping by, and have a great Turkey Day!