Oh, well! I've been up since 4am again. That's what I get for actually trying to sleep in my bed instead of on the sofa... My bed bothers my back so that I normally am either wide awake by 4am due to pain, or have to move down to the sofa by 4am anyway to finish sleeping.
---------------
I have 3 pages left to print in order to have 4 complete copies of the 2008 calendar. I'll have to bind them quick when I drop my car off at work this morning. Mike and I have 2 appts this morning due to financial issues that we have to take care of. So, I'll be going in to work late, and he'll be leaving for LI before I get home...
---------------
I added the credits for the 2 calendar pages to yesterday's post. I also believe I mis-posted where the Thrift Store kit came from... It's from Elemental Scraps not Scrapbook Elements. I think we need a few more online stores with similar names - don't you?!?! LOL At this point I really can't even remember where all I am registered! I'm fairly sure several of the stores have my NFCU email address which is no longer valid...
---------------
Oh! In case anyone needs it, and didn't notice - I added a jpeg version of my TOU for freebies at the top left. Feel free to snag if needed because I don't think any of my Word Art freebies had TOU included... I try to keep my TOU to jpeg or Notepad as anyone with a pc can open those. :) I personally don't have Word atm so I know it can be a nuisance to have a file you can't open easily.
----------------
Here's the January opposing page for the calendar: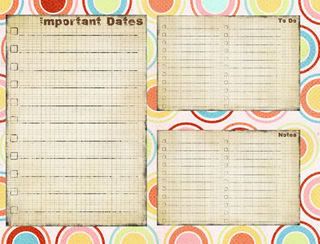 Credits:
Papers - will come from the kit from the month previously noted. (In this case Party Pants by Miss Mint.)
Note card, inked edge overlay, and checklist overlay by Meredith Fenwick of ScrapbookGraphics.com.
Fonts: PDRPT (Dafont.com)
LO completes the Nov Font Challenge at DSO!
----------------
I'm going to go watch a CSI or two from DVR, and then maybe I'll try to get a LO done before our appts... Or, maybe not! (Last page printing now!)
Thanks for stopping by, and have a great day!