Here are some pics from last night: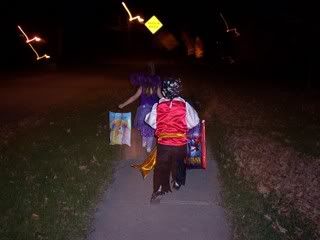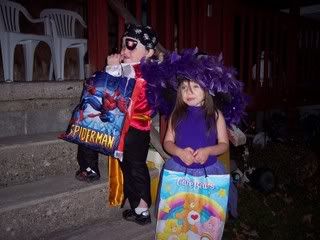 I have absolutely NO photos from the mall Trick or Treating which annoys me to no end because the kids changed their costumes before heading out to the few houses we hit here in Philly (That is the costume Grandma made him in the pics!), I took mine off, and Mike didn't go out with us here - he stayed home to take a shower instead. There was a mom here in town that was dressed in an inflatable pig costume which completely freaked Brenden out. He kept looking over his shoulder to make sure the pig wasn't behind us!
Micaila refused to say anything the whole time we were at the mall, but really got into it once we were home. She even had a great time handing out candy to the few people who stopped at our door in her Barbie PJs!
----------------------------------
I was going to have a LO for you this morning, but PSP just crashed before I could save! Whaaaa!
Gotta' shower and get to work... Thanks for stopping by, and have a great day!