So Brenden has started acting like a magician. I assume one of his morning cartoon shows had a magic episode on recently. He'll grab some object -sometimes Micaila - throw a blanket over it, and start waving his hands while chanting. The funny part is his chant...
...
not Abracadabra...
...
not Hocus-Pocus...
...
...
His chant is, "Hickory-Dickory-Dock! Show me the [insert item]!"
ROFL I end up in stitches everytime!
I just finished this page, and I'm off to work!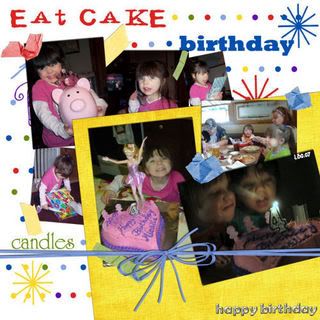 Credits:
Papers & elements from the Happy Birthday kit by Pamela of Digitreats available at her Ebay store.
Fonts: Girls Are Wierd